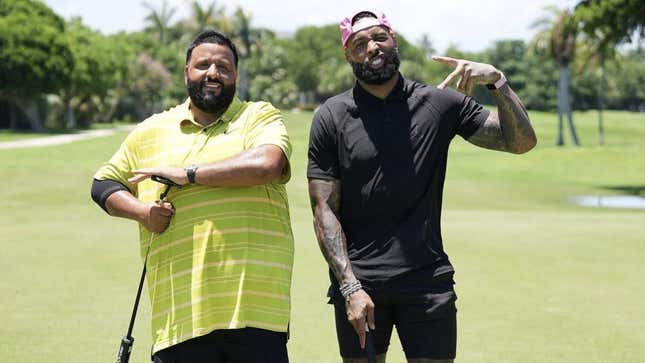 All the NFL, hip-hop, and PGA fans will enjoy this one. We've got Baltimore Ravens wide receiver Odell Beckham Jr. and DJ Khaled coming together for a golf outing. Imagine relaxing with an Arnold Palmer in the clubhouse, and these two walk in. Both are in shorts, with Khaled dressed like a tennis ball. Indeed, the country club will never be the same.

Is Tiger Woods the biggest loser in the PGA-LIV Golf merger? | Agree to Disagree
This might be the funniest scene on a golf course since Bob Barker's fight with Adam Sandler in Happy Gilmore. It's not the fact that they might suck because they might be a lethal combination. It's just the idea of them swinging golf clubs is freaking hilarious. This should've been an IG Live exclusive following these guys around on the course, making a mockery of everything golf holds dear. Ok, maybe they take this seriously and respect the game, but that wouldn't be nearly as entertaining.

Of course, Twitter has chimed in, and it's a mix of positivity and trolling for the superstar duo. Some have chosen to poke fun like the comment above, calling them "2 dudes who fell off." Others were a little nicer and more complimentary of OBJ and Khaled.

Honestly, watching these guys on the links was probably about as exciting as watching paint dry. We'll catch ya in the fall, Mr. Beckham. Enjoy those 18 holes, guys.