The Giants got downright bodied by the Steelers on Sunday, the 24-14 score barely reflecting Pittsburgh's dominance—Antonio Brown and Le'Veon Bell outgained the entire Giants offense. The promised showdown between Brown and Odell Beckham Jr., never quite materialized, because though Eli Manning relied on his top receiver to an unsustainable degree, Beckham's production was far outweighed by his frustration, both visual and verbal.
Although he was quick to say, repeatedly, that the refs were "not the reason we lost," Beckham's postgame talk was all about what he perceived as a number of poor and missed calls that went against Giants receivers throughout the game. He paid special attention to this first-quarter play, which could have been a flag on cornerback Ross Cockrell but was instead called offensive pass interference on Beckham.
It was a big decision; backed up against their own goal, the Giants took a safety two plays later.
G/O Media may get a commission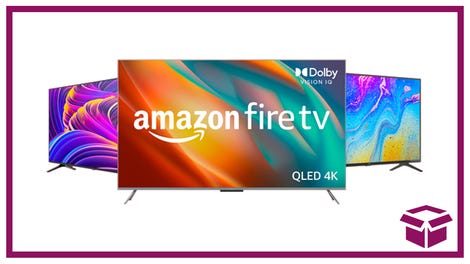 Ooh. stunning.
New Amazon Fire TVs
Beckham said his attempt to dispute the call was rudely turned away:
[I]t was a horrible call in my opinion, I don't understand how I'm running down the field on a go route, and someone tried to stop my progress, but I can't put my hands on them," Beckham said. "It's hard to stay composed when you know that there's a lot of nonsense going on.

"I went up to ask [the official] what was going on, what was the flag? And he said, 'Get out of my face,'" Beckham said.
Beckham had some reason to be upset. Safety Mike Mitchell took an uncalled cheap shot at him when he was already down on the turf in the second quarter, leading to Beckham's teammates having to physically restrain him, and there felt like a number of instances where a physical Steelers secondary got away with things that usually get called. But it went both ways: There was an uncalled hold on the Giants' first touchdown, for instance. Sometimes officials just miss things; it doesn't mean they're biased.
Beckham, though, seemed to hint that this officiating crew has it out for the Giants:
"I don't really think we should have this crew anymore when the Giants are playing with the past history and everything that's going on … I'm pretty sure this is the same crew from the Panthers game, the Redskins game, so just put two-and-two together. It shouldn't be that hard for you."
It was indeed Terry McAulay's crew that completely lost control of Giants-Panthers last season, and this crew that worked the Week 3 loss to Washington, which saw Beckham get so upset he attacked the sideline kicking net.
Beckham had to be held back from confronting the officials after yesterday's loss, and the book on him isn't merely out, but has gone back for a second printing: He's easily frustrated when he can't get the ball. This bodes ill for the Giants, because their wildly unbalanced offense makes it easy to send double coverage at Beckham. On Sunday, Beckham got a whopping 16 targets, compared to, say, the zero targets for a disgruntled Victor Cruz. As good as the Giants' defense has been, its offense is Beckham or bust. And if Beckham doesn't get pass interference calls against defenses willing to be physical with him, it's going to be difficult for this team to even back into the postseason.