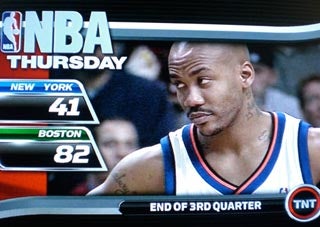 So it's at this point in the Knicks' season where we hear the band leader say "Gentlemen, it's been a pleasure and an honor playing with you," and then, as the ship creaks and begins its slow descent into the sea, they play the final hymn of "Nearer My God to Thee." (Later Fred Jones will be found floating on a plank blowing a whistle). The Knicks had great hopes of being rescued after two straight victories, but sadly there weren't enough lifeboats. It's probably fitting that Boston dealt the final blow to their season: That's the way karma rolls on this portion of the east coast these days. All you need to know about this photo here is that it kept getting worse; ending up Celtics 104, Knicks 59. As Skeets said when he sent it to me: "Yecch."
First came the bulletin board material that New York so kindly handed to Boston on Wednesday. Drunk on power from two straight victories, Quentin Richardson made a point of saying the the Celtics were a three-man team with no depth. In retrospect, perhaps that wasn't wise. Then came the spookily prescient prediction by the wise and mysterious "Dan" on the New York Post's Knicks' message board. During a round of "guess the score," Dan called it "Celtics 148, Knicks 59," five hours before the game. OK, he got a little carried away on the front end, but he got the Knicks' half exactly, and the fact that it would be a blowout. Weird. Oh, and you're just gonna love the ESPN Featured Comment of the Day a little later, folks.
From AP: "Only Nate Robinson's 37-foot 3-pointer at the final buzzer saved the Knicks from scoring the fewest points in franchise history. That might not be enough to save coach Isiah Thomas from getting fired: He was all-but-gone during an eight-game losing streak before earning a reprieve with two straight wins." Kevin Garnett played just 22 minutes, scoring eight points before leaving the game midway through the third quarter with Boston ahead 69-34. Paul Pierce and Ray Allen also sat out the fourth quarter and played 29 minutes apiece. It was the Celtics' largest margin of victory since 1970.
• Phil Jackson Just Can't Quit You. Phil Jackson evidently is not disgusted enough with the talent he's been given to hobble away from the Lakers; he signed a contract extension on Thursday for a reported $24 million for two years. And before the ink was dry, LA drilled Denver 127-99, with Kobe Bryant scoring 24 points. Carmelo Anthony was ejected in the fourth quarter after a flagrant foul against Sasha Vujacic, hitting him in the throat away from the ball. "Why you little ..." "Gahhh!"
• And Betty When You Call Me You Can Call Me Al. First of all, I would like to point out to our new Golden State Warriors overlords that as a media personality, I would be useful in helping to round up people to toil in your underground sugar mines. Al Harrington scored 18 points and held Yao Ming to 10 points on 4-for-12 shooting as the Warriors beat the Rockets 113-94. Golden State has won eight of its past nine after an 0-6 start.