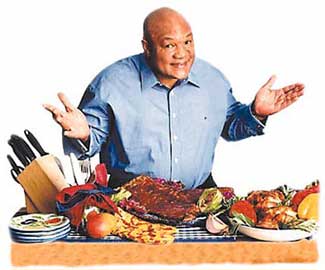 Every time someone has something new to sell, particularly a book, they need to come up with some sort of revelation, a hook, something no one has ever heard before. (For ours, we're going to confess that we're actually bald.) And sometimes they might need to make it up. We're just saying.
In his memoirs he says before the fight, his trainer gave him something to drink that tasted like medicinel, "I almost spit it out ... [I told my trainer] 'Man, I know this water has medicine in it,'" Foreman wrote. "I climbed into the ring with that medicinal taste still lingering in my mouth. After the third round, I was as tired as if I had fought 15 rounds. What's going on here? Did someone slip a drug in my water?" he wrote.
We meant not to interrupt Foreman's low-fat basting of meat or the raising of his 65 children named George, but, uh, we do not believe you, George. That fight was 32 years ago; that's older than we are, and we are freaking old. We know that absolutely no one was writing about any possible angle of that fight back then, and no one dispatched any reporters to cover it ... but we still don't quite buy that Foreman just now came up with this. At all.
Buy the book, though; you can only have so many colors of that grill.
Foreman: I Was Drugged Before Fight With Ali [ESPN]