Dan Shanoff, college football columnist for Deadspin, reflects on LSU's big win over Ohio State last night in the BCS championship game. Email him to let him know what you think.
Let me say this once and for all, to all the Ohio State fans out there:
Thankfully, mercifully, finally... S.T.F.U.
Dan Shanoff Is the Bandwagoneer

Stop yapping, stop emailing, stop commenting. After your season of bitching, we don't want to hear from you. Certainly not today. Let's throw in next year, too, as a penalty for last night's bed-shitting.
For the second straight year, your team has shown up in the national title game ranked No. 1, boasting the sport's "best" defense (at least on paper, which let's all agree was bullshit) and gotten shellacked.
After those consecutive personal-foul penalties that effectively ended the game, I actually had this thought, only half-sarcastically:
If Ohio State really wanted to win the national championship this season, the Buckeyes would have been better off turning down the BCS title game and playing USC in the Rose Bowl, hoping for a win against the Pac-10 and salvaging a split title. Because it's obvious this "winning a title outright against an SEC team" BCS Championship stuff doesn't really work for them.
G/O Media may get a commission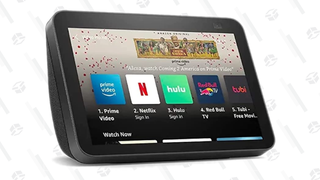 Congratulations to LSU fans, on a championship performance so dominating that it made me think twice about yesterday's well-intended but half-cocked assertion that Georgia deserved a national title split.
And to Ohio State fans, I would say better luck next year, but the rest of college football fans would like you to stop wasting a slot in the national title game. Unbeaten? One-loss? Doesn't matter: Stick to the Rose Bowl. Give a chance to another team that might not suck... again.
This season's final Top 10 ballot:
1. LSU
2. Georgia
3. USC
4. Missouri
5. Kansas
6. West Virginia
7. Ohio State
8. Virginia Tech
9. Texas
10. Oklahoma
Split the Vote! Campaign: As you see above, even I backed down. But three AP voters picked Georgia as their champ. (One each picked USC and Kansas.)
There WAS one split... for No. 2: The AP picked Georgia; the coaches picked USC. Chalk it up as a moral victory for everyone.
Playoff Watch: There will be a ton of talk about the "Plus-One" idea this offseason. And the idea STILL sucks.
Consider its two manifestations, applied to this season:
(1) Match up the top two teams after the bowl season. OK, after watching all the bowls, who would you pick today? LSU and...
Georgia or USC? UGA was 2nd in the final AP poll. USC was runner-up in the final coaches' poll. It's intractable.
In a season as muddled as this one, the bowl season did nothing to clarify a single pair of teams ahead of the rest.
(2) Pick 4 teams and have them play in two "semifinal" bowls, with the winners advancing to a championship game.
Here are the four teams that would have likely been picked heading into this year's bowls: LSU, Ohio State, Virginia Tech and Oklahoma.
In hindsight, with bowl season to use as a litmus test, three — THREE — of those four choices now look ludicrous. USC, UGA and KU were clearly more "playoff-worthy" than OSU, VT and OU.
This season was frustrating to those who want some sort of playoff system, but here's what this season WAS good for: Exposing the flaws of the Plus-One concept.
Unless a Plus-One proponent can explain how it would work in a season as crazy as this one, the Plus-One is even more flawed than the current system.
In the end, almost every fan who watched the game last night can agree that LSU is the best team. USC lost at home to a 41-point underdog. Georgia didn't win its conference. Kansas played a flimsy schedule. Ohio State, Virginia Tech and Oklahoma all lost their bowls. Missouri couldn't even beat Oklahoma once in two tries.
Once the season played out to its very last game, there was a clear champ — or perhaps the least-flawed team, which in sports is often the same thing.
Looking ahead to 2008: Back in August, I predicted that the BCS would implode this season, because multiple teams would go unbeaten - not, of course, because NO teams would go unbeaten.
I was right in theory, wrong on the execution. I think we'll see a correction next season: College football will be top-heavy with some overwhelming powerhouses. The game of the year will be USC and Ohio State: The winner has the inside track on one of the spots in the national title game; the loser needs help.
The rest is a jumble: The survivor (if any) of Georgia, Florida and LSU in the SEC. The survivor (if any) of Texas, Missouri, Kansas and Oklahoma in the Big 12. And God help us if Ohio State makes it back into the national title game. Let's hope poll voters have finally learned their lesson about putting OSU there when there is any doubt about their viability. Ranking inflation — preseason or otherwise — based on "reputation" is an insult to fans, teams and the sport. Now let me undermine that...
Here's a preliminary 2008 preseason Top 10 ballot to keep you feeling warm and fuzzy until August — or at least Signing Day:
1. USC
2. Georgia
3. Florida
4. Texas
5. LSU
6. West Virginia
7. Ohio State
8. Missouri
9. Kansas
10. Virginia Tech
As usual, send all comments and questions to danshanoff-[at]-gmail-[dot]-com.