Ohio State forward Keita Bates-Diop is a man of many talents; none of them is more important for the Buckeyes than his ability to be precisely the kind of multi-purpose offensive spear that turns an otherwise average attack attack into one of the best in the country.
Last night, in West Lafayette, Indiana, Bates-Diop was again the do-everything, flat-out star his team needed him to be. He led his team to a 64-63 upset of No. 3 Purdue, breaking the Boilermakers' league-best 19-game winning streak and cementing No. 15 Ohio State as, at this specific moment in time, the Big Ten's best program.
Ahead of Wednesday's clash, Purdue head coach Matt Painter bragged about his team's infuriating ability to counter double-teams on their bigs with quick kick-outs to sharpshooters. Purdue likes to let Carsen Edwards, Dakota Mathias, and P.J. Thompson bury blitz opponents with treys and stretch the lead to around 12 points or so, at which point the Boilermakers go back to their 7-foot-2 center, Isaac Haas, and let him beat up on his always smaller, typically less-skilled counterpart until the opponent starts doubling again. From there, it's just a matter of rinse-and-repeat. It's how Purdue scores 83.2 points per game and wears down opponents, to the point that those same offensive threats—namely Haas—can be turned into a defensive brick wall, one that consistently forces opponents to shoot 39.8 percent from the field and holds them under 65 points.
Purdue is about as complete a team as you'll find in this year's college basketball pool—in terms of combining skill with size, Haas is a literal head above the rest of the league, and Edwards is one of the most entertaining one-on-one guards in the league, able to both attack the rack and pull up four feet behind the three-point line.
But on Wednesday night, Holtmann and Ohio State opted not to fall into Painter's trap. They let Haas chew them up in the paint, both on back-downs and pick-and-rolls with Edwards, knowing that if they relented and started throwing two bodies at the big man that Purdue would thrash them with threes and establish a lead that the Buckeyes, who have been held to 75 points or less in half their games this season, would never fully claw back from.
G/O Media may get a commission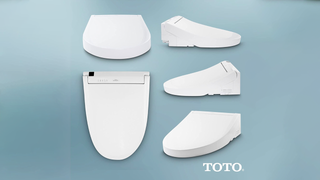 44% off
Toto Washlet Electronic Bidet Toilet Seat
Edwards still had an insane game—he went for 28 points on 4-of-7 shooting from behind the arc—and Haas did what he does, finishing with 18 points on 7-of-11 shooting from the field, simply picking up and moving aside Ohio State defenders as he saw fit in single coverage.
But this only meant the Ohio State plan worked, as it forced the Boilermakers to rely fully on their two stars rather than get into a team-wide shooting groove. While Haas and Edwards did their best to single-handedly down the visiting Buckeyes, Vincent Edwards, Thompson, and Mathias combined to shoot 4-of-13 from three-point land; Edwards, second on the team in scoring behind Carsen, didn't even sink his first bucket until the 15-minute mark of the second half.
At the other end of the court, once it was clear Holtmann's defensive plan was playing out perfectly, the Ohio State offense made its move. More specifically, Bates-Diop started cooking. Thanks in large part to his game's versatility, Bates-Diop did exactly what Purdue normally thrives on: He turned the double-team to his favor.
A redshirt junior, Bates-Diop always had a high ceiling—standing 6-foot-7, the Normal, Ill. native has the reach and frame to body up most lumbering forwards and the footwork to matchup with the likes of Vincent Edwards and even small, shifty guards on switches. But he missed the majority of the 2017 season after suffering a stress fracture in his left leg prior to the season; when he tried to play through the non-conference slate, he suffered an ankle sprain to his other leg, prompting the team shut him down by the time conference play came. He was then shuffled off to the surgeon's table to ensure his long-term viability.
Now, having a full season and offseason to rehab his legs and return and surpass his sophomore level of play, he's one of the most sure-handed, spatially aware players in the game, with handles and a jump shot to boot. While his defensive game is impressive, he's damn near unstoppable in this iteration of the college game. He's one of those guys that does an excellent job of lurking in the post, and not only is he equipped with the hops and hands to snag most any lob, he's an expert at understanding when to bring the ball down and when to just go up with it.
But do you want to see the truly good shit? Like, the nudge-your-buddy, damn, this guy might be the best small forward playing kind of good? Check this out:

Knowing full well that the moment he brings the ball down, Haas would be there to pin his shot against the glass, Bates-Diop posted up his fronting defender, created space with a hip bump and slight elbow push-off, caught the ball with his back to the basket, recognized an approaching Haas, and laid the ball off the top corner of the square so softly that it barely nicked the front of the rim on its way to the bottom of the net.
So then, imagine being a defender, already scared to let this guy back you down or kick it out, and then have him do this, right in your grill in front of your fans, your god, and a live television audience:
A college player, let alone a college frontcourt player, doesn't take that shot—a turnaround, fadeway jumper off a nasty crossover-spin combo—with 25 seconds left on the shot clock unless 1) it's garbage time or 2) you and your coach know damn well that a shot of that difficulty is still, somehow, a good shot for you.
The Boilermakers held a double-digit lead at the 11-minute mark of the second half, only to see it erased after Painter pulled Carsen Edwards and Haas with around nine minutes left in the game, allowing Ohio State to cut a 14-point advantage to one by the four-minute mark. But the turnaround jumpers, the kick-outs and screens, and the ridiculous layups weren't the end of Bates-Diop's campaign to terrorize Painter's defense.
Having shown his full arsenal over the course of his 39 minutes on the hardwood, it seemed only fitting that the conclusion to both Bates-Diop's masterful 18-point, 11-rebound performance and the heavyweight defensive brawl between two conference giants was nothing more than a simple instance of defensive ball-watching and good, old-fashioned board crashing by none other than Ohio State's best player.
A season removed from having a question mark cast over his immediate future following two nasty leg injuries suffered within three months of each other, the redshirt junior is now one of the best forwards in the country on one of the best teams in the country. Both statements, at the beginning of the season, seemed equally implausible—not impossible, but counting on a guy six months off leg surgery and new coach just didn't seem like the bet to make.
And as I point that out, some tasty, delicious crow: I wrote in June that "barring a miracle, Chris Holtmann's first year as the Ohio State men's basketball coach is all but guaranteed to be a rough one." I cited his late on-boarding process, the limited time and player pool to recruit from for the upcoming season, and a roster thin on healthy, court-ready talent. By my count, Columbus hasn't been home to any miracles this year, unless you count the team's general health; no, this squad, on the back of a string of superb coaching efforts from Holtmann and stellar play from starters, both young and experienced, turned into one of the nation's best by understanding its roster limitations and using its strengths to deconstruct even the mightiest of opponent game plans.
Ohio State counts some bad losses among its five defeats this year, but with Villanova falling to St. John's, so too does every single other top-15 team in the nation. The Buckeyes, for the most part, seem to have left their bad habits in the non-conference slate. Now, behind an entertaining double-double machine in Bates-Diop, a more-than-capable brother forward duo in Andre and Kaleb Wesson, and pleasant surprise of a point guard in Jae'Sean Tate, Ohio State looks like a real threat.