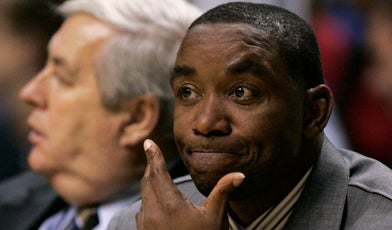 As if Isiah Thomas didn't have enough trouble: His brother, Preston, has been arrested for the worst crime yet: unzipping right in front of The Lord.
From the Chicago Sun-Times:
Clarendon Hills police arrested Preston Thomas, brother of former NBA star Isiah Thomas, for urinating near a church last week. Thomas, 52, of 279 Columbine Drive, Clarendon Hills, was arrested at 9:15 a.m. Jan. 8 at Notre Dame Parish, 64 Norfolk Ave. He was charged with public urination.

Thomas was seen urinating near the church building by a passing motorist, as well as a teacher and student at Notre Dame School. He later was arrested at Golf and Chicago avenues.
For the record, Preston, guys like Billy Carter and Donald Nixon had a function; to act as comic relief to offset their stodgy, more serious brothers. Isiah needs no such help. Anyway, it's all documented in this riveting movie, as I'm sure you recall.
Wait a minute, Preston Thomas was in Kingpin? What?
Isiah's Brother Arrested For 'No Peeing Zone' Violation [Newsday]
Brother Of Former NBA Star Arrested For Urinating At Church [Chicago Sun-Times]