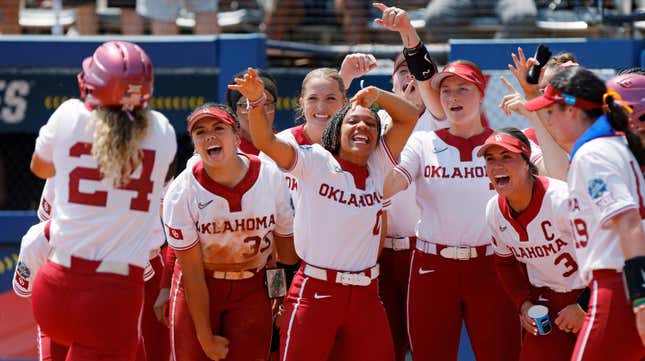 It's over. Maybe it was over before the festivities began in Oklahoma City? That's why you play the game right? This year's Women's College World Series had eight national seeds survive regionals and super regionals to become the elite group in college softball. Seven teams hoping to knock the crown off Oklahoma's figurative head. Five have failed after the Sooners extra-inning victory over Stanford on Monday and only one more will get the chance from the other side of the bracket in Florida State or Tennessee. The championship series starts Wednesday night with Oklahoma making its fourth straight appearance in the best-of-three title clash. Patty Gasso and crew are looking for their third straight national championship.
Christian Pulisic calls out lackluster attendance at USMNT friendly
The Sooners have how many consecutive wins?
Did I forget to mention Monday's victory was the Sooners' 51st consecutive win, padding their own Division-I record? Their Feb. 19 loss to Baylor by one run represents the only blemish in what is the most dominant season in college-softball history.
With a sweep of either the Volunteers, who Oklahoma already has defeated at the WCWS, or the Seminoles, a discussion of the most dominant season in NCAA history is ripe. I know fans of the Joe Burrow-led LSU squad would complain, plenty of shouts from Nick Saban's cronies in Tuscaloosa would commence, or Puritans from UCLA's or Tennessee's dominance in men's and women's basketball would argue. In a transfer-portal, NIL, never-been-better athletes world, what the Sooners have done this season may never be replicated.
To list how many ranked teams or run-rule victories Oklahoma has garnered this season makes it sound like a video game that you rigged against the computer. Like pulling the other team's goalie in hockey and always letting your opponent play 6-on-5, but the net is empty. This is real life though and the unstoppable machine that is the Sooners always find a way to win.
Even on Monday, with Stanford having runners on first and second, with no outs in the eighth inning, Jordy Bahl found a way to get out of a jam. Then Tiare Jennings came up in the top of the ninth. With three strikeouts and a flyout to her name on Monday, she faced NiJaree Canady with two outs. And she finally broke out of her Oklahoma City slump and drove in the winning runs. That it was a deflating moment for Stanford and it was painfully obvious. Whoever is being fed to the Sooners next, either after one more win for Florida State, or two for Tennessee, congratulations on being the national runner-up in college softball this season. The No. 1 spot has long been gone.