Earlier a reader complained that yesterday's Canada-Norway hockey game on MSNBC was bumped to another channel, without warning, so that "Countdown with Keith Olbermann" could begin on time. Here's a programming note: Keith Olbermann is not amused by your lies.
Here's was the original complaint from Brian P., followed by Olbermann's emailed response to Deadspin:
Just one more quick anecdote about trying to watch the Olympics on NBC. While watching the Canada vs Norway men's hockey game on MSNBC, during the second period it goes to a regular commercial but then comes back to the opening credits of "Countdown with Keith Oberman". No warning, no information about if the game was going to continue or switch to another NBC family channel. We did finally find it on CNBC and continued to watch it but all of us watching were very disappointed at NBC's lack of any level of professionalism.
Olbermann:
by the way, this is bullshit... and you can quote me on that.
the canada-norway game was filler after the American women's game or whatever was being shown live... olympics always ends on MS at 8 pm est, unless a live game goes longer, in which case Countdown starts when the game is over.
G/O Media may get a commission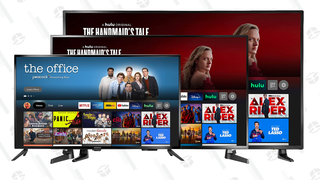 Up to 44% off
Prime Early Access - Insignia Fire TVs
There you go. Record straightened. Now if you've got a problem with CNBC's coverage, take it up with Maria Bartiromo.
UPDATE, per Mr. Olbermann:
In point of fact, we've already preempted the usual first live run of Countdown next Thursday night, because MSNBC is scheduled to carry the Women's Hockey Final, live, until at least 9 PM ET.
And you can quote me on THAT too.
Thursday - February 25
MSNBC
Women's Ice Hockey - Gold Medal Final (LIVE)
5:00 p.m. - 8:00 p.m.
SECOND UPDATE:
obviously, though, I did cut and paste from a schedule with CST times on it (6 PM EST start, 5 PM CST)