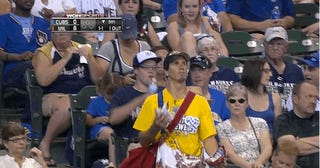 What at first seems like a wholesome bit of Americana, becomes just regular, old everything's-a-pain-in-my-ass Americana. On first blush, we've got a concessions worker at Miller Park, juggling Cracker Jacks. Who doesn't love Cracker Jacks and Baseball? It's in the song, for crissakes. That lady in yellow, that's who.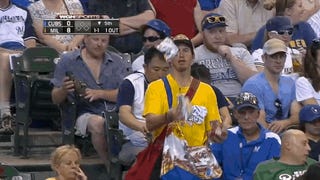 I'm reminded of Steve Harvey's "Sister Odell" talking about some Deacon, walking towards her. "Here come this sorry motherfucker over here." This is the face I imagine Sister Odell making.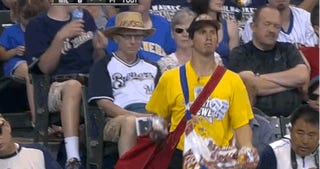 She knows the juggling is just a scam. Like flashing a lazer light on the wall for a cat, she knows kids are going to be all over this guy and his flying Cracker Jacks and she doesn't want a single thing to do with any of that nonsense.
[MLB]