This is not surprising. Goodell made his ruling and now everyone will return to terrible normalcy. Here's a rundown of the NFL's statement with additional commentary to help you understand what the hell just happened.
The quotes are from the NFL's official statement on the Brett Favre investigation:
The NFL office conducted an investigation to determine whether Brett Favre's interaction with New York Jets game-day employee Jenn Sterger in 2008 violated the NFL Personal Conduct Policy.

In reviewing the matter, the sole focus was on whether there was a violation of league policies regarding conduct in the workplace. NFL policies do not extend to private conduct or make judgments about the appropriateness of personal relationships, except where that conduct or those relationships raise issues under the law or league policies.

The investigation included an analysis of publicly available reports; a series of interviews with knowledgeable individuals, including Sterger and Favre; a review of communications between the two furnished to our office; and independent forensic analysis of electronically stored material. The investigation was limited in several respects because the conduct occurred in 2008 but was not brought to our attention until this fall. As a result, certain records and individuals were unavailable to the NFL.
Let's clarify what an NFL investigation entails: it's interviews. Lots of boring, basic interviews. NFL "Security" is made up of former cops and FBI dudes who have shiny shoes and nice pensions who are able to ask questions under the guise of being authoritative and (hopefully) make a determination and recommendation to Roger Goodell on what appropriate action should take place. Favre, Bus Cook, Jenn Sterger and I are not sworn under oath or anything like that to tell them anything more than we have to. The first meeting between Favre, Bus Cook and Ahlerich apparently took a long period of time but most of that conversation was pretty much Favre copping to leaving the voicemail messages and not admitting to — not "denying" — sending the dong shots. Why should Favre admit to that? Both he and Bus Cook and Favre's attorney were confident enough that the NFL could never prove it was his penis and unless he voluntarily pulled his wang out on the desk to do a side-by-side evaluation of the two, he was in the clear. The "forensic" analysis requires basic computer tracking stuff which could match up texts from Favre's phone — the one with the 601-291-6004 — to messages sent to Jenn. Sterger and company presented their evidence proving that. Favre seemed unable to "cooperate" on his end of things, which means they couldn't do the full on forensic analysis needed to put his dick on that phone because Favre most likely ditched that particular batphone a long time ago.
The investigation also reviewed a second media report about allegations involving other women who worked at the Jets' facility in 2008. Misconduct by Favre regarding that claim was unable to be substantiated because individuals with potentially relevant information declined to be interviewed or otherwise cooperate with the investigation. In addition, our investigation took longer than might ordinarily have been the case due to difficulties in arranging to speak with certain key individuals, the time required to retrieve and review stored electronic records, and Commissioner Roger Goodell's decision to meet personally with both Favre and Sterger before making a decision.
G/O Media may get a commission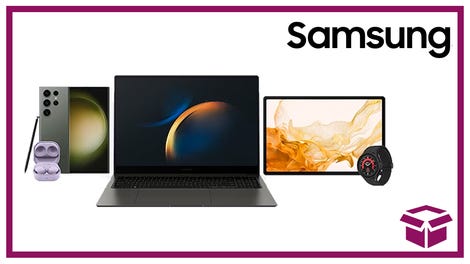 24 hour deals
Discover Samsung - Daily Deal
Ah. Yes. The other "media" report about the two other massage therapists. Let's recap to where this all came from. The day after the New York Post ran the cover story on Sterger, the husband of one of the massage therapists contacted Deadspin and the Post to tell his run-in with Favre in 2008. Why did he take so long to come forward? Because he wanted to forget it and, like Sterger was advised, he did not want to potentially jeopardize his wife's part-time employment as a massage therapist for the Jets. But he was pissed. Pissed like any other husband would be had an NFL quarterback suddenly started sleazily texting his wife and invited her back to his hotel room. Once the story hit the front cover, all of that rage and jealousy and helplessness resurfaced and he was strongly considering pushing forward with a suit because it was unavoidable to ignore and forget about. At first, he wanted to join forces with Sterger's camp to apply more pressure on the Jets and the NFL to act. That did not happen. But the man — and the massage therapists — did lawyer-up. Elizabeth Eilender, Manhattan attorney, was hired to represent them. But due to how adamant both the husband and wife were about keeping themselves out of the public eye, they were reluctant to press forward and fully cooperate with the NFL. Based on the high profile nature of this case, Eilender felt that the matter would be handled privately with as little publicity as possible, even though she is also in possession of the incriminating texts allegedly sent from Favre from that same 601-291-6004 number. As far as I know, this is still ongoing and may resurface once the parties involved resolve some family issues that are more pressing.
On the basis of the evidence currently available to him, Commissioner Goodell could not conclude that Favre violated league policies relating to workplace conduct. The forensic analysis could not establish that Favre sent the objectionable photographs to Sterger. The review found no evidence to contradict the statements of both Favre and Sterger that they never met in person, nor was there anything to suggest that Sterger engaged in any inappropriate conduct.
No, Sterger didn't fuck Brett Favre. She never had any interaction with Favre outside of one weird incident inside the Jets tunnel where Favre whipped off his helmet and smiled at her in a flirty effort to prove he was a nice guy. Sterger's reluctance to step forward in 2008 seemed to indicate that she didn't think this was that big of a deal — at least from a harassment standpoint. But she was skeeved. And she told plenty of people about it and shared the voicemails and pics with them — some of whom are in the media — and her story was out. In fact, here's what one ESPN person said: "I'd heard about the story of Brett sending photos of himself masturbating wearing the watch a while ago. But I just don't care." Bully for us. But is Sterger a victim? Right now, the only thing she's a real victim of is the increased publicity from this incident and not taking control of the situation when she, you know, was a talking head on The Daily Line television show. Instead, she waited for it to go away, even though it was apparent that this wasn't going away the minute Brian Costello of the Post asked the question at the Favre press conference in October. And, look, Jenn Sterger is not a moron. She's very self-aware, but she's also not confident enough to light out on her own. She's not a gold digger, but her inability to ignore the shitty advice from Phil Reese, Joseph Conway and every other confidant she's depended on to help her through this scenario has left the public to think nothing more of her than that. Whatever career sports media aspirations she had — and her reputation — could have possibly been saved if Jenn had just gone on-air and said something like this: "Yes, it happened. I made the mistake of telling too many people about it and it got out. I'm not going to press charges, I didn't feel threatened or harassed, but it did happen and I want to move on with my life." Because that, more than anything else that is coming out of her camp right now, is the absolute truth.
However, Commissioner Goodell also determined that Favre was not candid in several respects during the investigation, resulting in a longer review and additional negative public attention for Favre, Sterger, and the NFL. The commissioner notified Favre that he has been fined $50,000 for his failure to cooperate with the investigation in a forthcoming manner. Commissioner Goodell stated to Favre that if he had found a violation of the league's workplace conduct policies, he would have imposed a substantially higher level of discipline.
Yes, Favre lied and equivocated and led Goodell and the NFL to believe that he was just being friendly with Jenn and it was all harmless fun. I say this reluctantly, but Sterger's attorney, Joseph Conway, is absolutely right that Favre is getting preferential treatment here. This isn't a huge miscarriage of justice or anything along those lines, but it's been obvious to everyone following this that it was not in the NFL's best interest to fast-track this during the season and possibly sully Favre's victory lap towards retirement. Even though Favre's lied about retiring many times before.
In a memo to clubs today, Commissioner Goodell reminded them of the serious nature of this matter and stated that NFL policies make no excuses for improper or potentially unlawful conduct in the workplace. "Every member of every club's staff should be able to work in an environment free of harassment or hostility, and one in which every employee is valued, respected, and given a full opportunity to contribute to the goals of the club and the NFL," Commissioner Goodell said. "Our new training program on workplace conduct will help all of us to promote the right kind of environment for all employees and I intend to dedicate the fine I have imposed on Favre to help fund that training program."
Here's some news: NFL players, like most professional athletes, enjoy having sex with as many people as possible, married or not. They're used to getting what they want. Sometimes they forget that some of the women they interact with aren't the open-legged groupies who will let them treat them poorly. Here's some more news: women, regardless if they're in the workplace or not, like to have sex with professional athletes. Cheerleaders who aren't supposed to bang NFL players have banged NFL players while they're still representing the organization. Longtime girlfriends of NFL players have sex with their boyfriend's teammates and don't give a damn about it. And, yes, female members of the media have sex with NFL players even though it could potentially ruin whatever credibility they desperately seek. This has happened — and still happens — under the auspices of the professional sports workplace. It's an environment riddled with hyper-aggressive sexuality that has different rules than most workplaces. So in reality, the subtext of Goodell's memo to teams about appropriate work place conduct is this: be more discreet.
Related:
*Brett Favre's Cellphone Seduction Of Jenn Sterger
* Brett Favre Once Sent Me Cock Shots