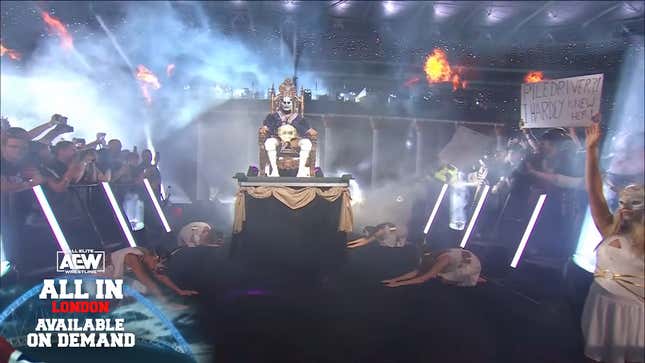 AEW took its big shot Sunday, putting on their first-ever stadium show and their first show in the UK at Wembley Stadium. It's impossible to define what success would be for the show, other than selling a ton of tickets, which they did. Overall, the show was great, while also being everything else AEW is: loosely held together, putting on killer matches, catering to its dedicated fanbase, while also having some glaring weaknesses. Oh, and CM Punk fought someone backstage. It's the complete AEW Bingo card.

How will The Elite return to AEW? | Deadspin Dropkick
There's always a fair amount of smoke before every AEW PPV about how their builds are just different than "the other guys." Because AEW only runs a handful of big events per year (though that could be rising), it can't have its weekly shows sit in stasis for a couple weeks until the next monthly PPV. Things have to happen on TV to keep viewers around, there's too much time to wait to conclude everything beyond a paywall. Which means steady, long builds for PPV matches isn't something that AEW can do regularly, though maybe they could slightly more often.
This one was no different, and it wasn't much of a problem due to the bedrock of the entire company. They just put on great matches. CM Punk-Samoa Joe is pretty much plug-and-play now, but it also gives fans what they want because these two will always put on a clinic. It was a wondrous sight to see these two, who had basically defined indie wrestling with their original trilogy of matches in front of dozens in spaces that probably didn't pass city code, get to bring it in front of 80,000, all of whom "got it."
Because this is Punk, his match is never the full story, no matter how good it was. Apparently mere minutes before entering, he got into a physical altercation with Jack Perry, who had a match on the pre-show where he definitely took a shot at Punk on camera. And we know how Punk feels about people taking shots at him that aren't committee-approved. Who threw first and who did what is still being settled and sorted, and until everyone knows, it looks like Punk is going back on ice right as the company camps out in Chicago for a week before All Out. AEW!
A less-heralded aspect of AEW is to throw together tag or six-man tags where every single combination of wrestlers in the ring causes fans to lose their sh*t, and get them begging for a bevy of singles programs amongst those participants. AEW doesn't always latch onto it – we've yet to see a Malakai Black-Omega program despite the crowd absolutely going bonkers for them at Revolution. But the mere promise is enough. The match between Kenny Omega, Kota Ibushi, and Adam Page against Jay White, Juice Robinson, and Konosuke Takeshita was another one, though Tony Khan hasn't missed the boat on it as Omega-Takeshita is already booked for Sunday.
FTR and the Young Bucks finished their trilogy of matches with a worthy capstone, calling on their previous work and luring the crowd in with enough false finishes that might have ruined other matches, but not one with two god-level talents like this.
Chris Jericho does his best Freddie Mercury impression
And then AEW got into their bombast drawer, and with AEW that always means violence that zooms past cartoonish and into hilarious, if not bordering on chilling. The stadium stampede match is supposed to be utter chaos from the moment it starts, and this version wasn't different, with Jon Moxley having a collection of skewers embedded in his skull within minutes, Eddie Kingston fighting Claudio Castagnoli in the Royal Box, and Penta El Zero/Oscuro not letting a broken ladder dissuade him from engineering a huge spot off of it. It's everything at once, which is kind of what AEW is.
The bombast level didn't drop with Chris Jericho doing Freddie Mercury's Wembley "Ay Oh" call-and-response before his match with Will Ospreay, and everything Ospreay does in the ring is meant to be as epic as possible. Jericho saves himself these days for the one or two big moments per year, and while Ospreay had to do a lot of the work it was made to feel of a main event level because Jericho was in it. It's a wonder how he does it.
The main event pitting MJF vs. his best friend Adam Cole dipped into something that AEW has rarely waded into, which is heavy on the melodrama and overbooking. But because of the prep work these two had done in the weeks leading up to it, no one minded. There were multiple ref bumps and a run-in and yet another faked finish and the match then extended, a second time for MJF after his ironman match with Bryan Danielson got an extra five minutes tacked on. There was more post-match with yet another tease of a breakup between these two, but their friendship won out. Which is the right call, because this is the best thing AEW has going and they probably need it to get through the next little while. Especially if there's about to be more Punk drama to navigate over.
The women's division still got short shrift
But if All In showcased everything AEW does well, it also did so for everything it doesn't. Namely, its women's division. While Khan tried to, half-heartedly, celebrate the four-way match between Hikaru Shida, Saraya, Toni Storm, and Britt Baker as just continuing the tradition of having four-way women's matches on PPVs, that is only evidence of the lazy and clumsy way Khan books it. Four-way matches are resorted to because no real feuds or stories for the women's titles are ever created, so he just throws together whatever's lying around to check off a box.
The match was less than 10 minutes, and the title was thrown on Saraya merely to give her a moment in front of her home crowd. And while it's undoubtedly touching to see her get that, after having to retire due to neck injuries and being assured she'd never wrestle again, it is a departure for a company that doesn't deal in "moments" that are just there for the sake of it. That's WWE's job. Even as shoddily as Khan has booked the women, every title change has generally meant something, and put on a wrestler who clearly deserved it. This was doing it to do it, further cheapening a title and division that Khan can't help but look more disinterested in with each passing day. Saraya has wrestled three times this year, and none of them would be called barn-burners. As short-shrift as the division has gotten, when each of Thunder Rosa, Storm, Jamie Hayter, or Shida got the title they had a list of good matches behind them to justify it. It's a company built on that, remember.
While planting Mercedes Mone in the crowd certainly gets people excited, it's perfectly fair to ask why she would want to appear for AEW after what she saw at Wembley and everything before it. Perhaps her star power will give Khan no choice, but skepticism is still the overriding emotion.
All In was never going to signal some shift in direction for AEW or a dawn of some new era. It was a chance to show its biggest-ever audience what it is, in all its barely-held-together messy gloriousness and warts. And it certainly did that beyond a shadow of a doubt.
---
Follow Sam on Twitter @Felsgate and on Bluesky @felsgate.bsky.social