The Mighty MJD's Smorgasbord runs every Monday. Do enjoy.
• After a very informative Kermit the Frog feature (apparently, 10-year-olds are running the whole damn show now), ESPN's Countdown gives us a glimpse of the Jets throwback uniforms. I don't dislike them ... it's a solid Navy/Gold combination, and I dig the concept of throwbacks ... but the Gastineau-era Jets jerseys would've sufficed, wouldn't they? I wish they didn't have to throw it back to a time you have to be older than Berman to remember.
• Meanwhile, on the FOX pregame show, Jay Glazer's got video footage of Joey Porter (as well as three douchebags dumb enough to be friends of Joey Porter) beating the hell out of Levi Jones at The Palms in Vegas. It's pretty much exactly as Levi Jones described it ... four guys attacked him at a blackjack table, and beat his ass all the way over to a roulette table. It wasn't a fight, it was a gang beating. If anyone needed reason No. 7,592 to hate Joey Porter, there it is ... he's the type of guy who will jump you with three of his friends.
• Inexplicably, the matchup on the main screen here is Ravens vs. Rams ... which is great, because I didn't get quite enough offense-free football last week during the Ravens/49ers game.
• When I saw him at the time, I only thought, "This must be one of the two or three dumbest people alive," but upon further reflection on the gentleman wearing the Joey Porter Dolphins jersey ... that's got to be about the worst jersey purchase of all time. You're showing public support for an asshole who's a shell of his former self, on a team where 0-16 is not out of the question. Were they out of Rae Carruth jerseys?
• Jason Wright gets in the endzone early for the Browns ... and upon getting up to celebrate his accomplishment, he inadvertently mows down the umpire, sending him to the ground in a heap. And now this poor old bastard is being carried out ... nice job, Jason Wright.
G/O Media may get a commission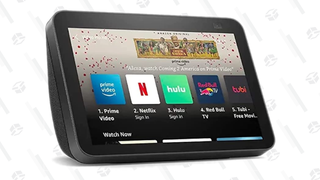 • In what might be the second-most interesting game of the day, Redskins corner Carlos Rogers bounces off Packers tight end Donald Lee, allowing Lee to scamper about 60 yards downfield. DeShawn Wynn finishes it off with a 3-yard scoring run, and the Pack lead 7-0.
• Play-by-play guy Sam Rosen on the Rams/Ravens game: "They're going back and forth, punting." Yes, Sam. Yes they are.
• Devin Hester, or, as some people call him, "The Chicago Bears offense," returns a punt 89 yards to the house. I could've sworn I saw a little block in the back there, but ... hey, what do I know ... I'm no Ed Hochuli. But it does seem to me that if you don't ever let Devin Hester touch the ball, your chances of beating the Bears have to increase by at least 40 percent.
• Kellen Winslow Jr. might not be blocking Joey Porter, but someone is ... Ronnie Brown is running all over the Browns, and Porter's invisible. 14-3, Fish.
• By the way, I really miss Crazy Fish Guy. I haven't seen him once all year ... I feel certain that he's dead, his thumbs sliced off before he was murdered and tossed in a river over an NFL gambling debt. But you know, that's the way he'd have wanted to go.
• With 13:18 remaining in the second quarter, the Rams have 18 total yards.
• Oh, but we've got some action ... Gus Frerotte drops back, he rolls to his right, and he has a man wide open behind the coverage ... and he underthrows him by a good 15 yards. Interception, and the guy could've signaled for a fair catch on it. Sigh.
• Brian Westbrook, at 5'10", 203 lbs., lowers his shoulder into Jonathan Vilma, at 6'1", 230 lbs... and Vilma is knocked on his ass.
• Oh, Larry Johnson, you sad fuck, you ... he broke open about a 30-yard-run, was trotting into the endzone, about to score his first rushing TD of the year ... in fact, to get the Chiefs first rushing TD of the year ... and he lets some guy catch him from behind and knock the ball out at the 1. It goes through the endzone for a touchback.
• Johnson's walking off the field with his head hanging and his eyes fixed on the ground ... it's almost painful to watch. It's like watching the uncoordinated dork rightfielder on your little league team, who's struck out in his last 48 at bats, finally close his eyes, take a blind swing, and hit a ball hard ... only to be tagged out at the plate going for the inside-the-park homer. It just hurts your soul to see someone feel like that.
• Uh-oh ... Offense alert. The Rams get a break, and they might have a chance to get on the board here. Kyle Boller fumbles and turns it over deep in his own territory. The Rams take over possession at the Baltimore 11. OF-FENSE! OF-FENSE!
• And on the next three plays, they will lose six yards, and then Jeff Wilkins will shank a field goal. Oh dear.
• I'm picturing Marc Bulger and Steven Jackson, staying late at the Rams practice facility, telling coaches and trainers that they're going to hang out for a while and do some extra work to help rehab their injuries ... and then as soon as everyone leaves, Bulger says, "Listen, I don't want to come back, and I don't think you do, either. Have you seen that offensive line? We are fucked out there. So check this out ... if you re-break my ribs, I'll re-tear your groin ... what do you say? Cool? All right. Lay down, take your pants off, and hand me that lead pipe."
• Update on the Rams offensive progress: With 13:18 to play in the half, they had 18 total yards. And now, with 9:07 to play in the half, they have 17 total yards.
• And Larry Johnson does get in the endzone now ... good for him. He leaps into someone's arms and flashes the "Rocafella" sign. Jay-Z really hadn't been getting his money's worth on that investment.
• Hey, Ted Ginn gets about a 60-yard kick return after another Brownies score ... but that's going to come back on a holding call. Sorry, Ted. You'll have to wait for the first good play of your career.
• Good news for the Rams offense: Drew Bennett has hurt himself and is out for the rest of the game. Just one less receiver for Gus Frerotte to not get the ball close to. I fully expect to see Henry Ellard out here in the 2nd half.
• David Akers, in a game I'm not paying much attention to, has missed consecutive field goals by about a total of 60 yards. One thing I do like about that game, though ... the gold pants that the Jets cheerleaders are wearing today. They look very whorish. I approve.
• TOUCHDOWN, CLEO LEMON. For some reason, I've decided to watch this Browns/Dolphins game pretty closely, and Cleo Lemon is certainly no worse than Trent Green. He's a very hard guy to sack ... he's quick, and he's hard to bring down even if someone gets their paws on him. He's got a live arm, too. Also, every time he drops back, you don't have to worry about someone killing him with a blow to the head, triggering all kinds of wrongful death lawsuits ... really, for the Dolphins, I think that's the best thing about him.
• In two of the last three plays, Kellen Winslow has made catches right in front of Joey Porter ... Porter's made both tackles, but Winslow's gained a total of 48 yards. Porter still probably considers this a personal victory.
• Text message from Danks: "What would the offspring of Dan Dierdorf and Vince Young look like? Because Dierdorf wants it to happen." I think the child would look like a miniature Laveranues Coles with Dierdorf's big bushy mustache. Unless it's a girl, and then, it would have long black hair and a slightly thinner mustache.
• Coming back from halftime Ted Ginn's going to take this kick return 96 yards to the HOUSE, BABY. Except ... yeah, that's holding. This game is like a personal torture chamber for Ted Ginn. And the wait for the first good play of his NFL career continues.
• Not to worry, though ... Cleo Lemon's going to be 6-of-9 passing on that drive, and finish it off with a 5-yard touchdown run. He is making lemonade all over the Browns.
• With 5:56 remaining in the 3rd quarter ... Cincinnati has run two plays in Chiefs territory. I'm happy to report that Larry Johnson's broken the 100-yard barrier, though.
• Man, the Rams are just beating the fuck out of Gus Frerotte. The number of sacks isn't huge, but I don't know if he's had time to set up and throw, even once. I know the Rams are expecting Bulger and Jackson to be healthy after their upcoming bye week, but I just know that sometime around Tuesday, Bulger's going to hand Jackson a pair of brass knuckles, lift up his shirt, close his eyes, bite down on a wooden spoon and say, "All right. Break the rest of them."
• I don't know what his numbers are, but it seems like every time I look up at the Bears/Vikings game, Adrian Peterson is leaving six or seven Bears in the dust.
• Sign in Green Bay: "FAVRE OUTPUTS XCITEMENT." You want to be on television way too badly, asshole.
• Chad Johnson and Marvin Lewis are having some sort of a discussion on the sidelines ... actually, it looks more like Marvin Lewis is trying to talk to Chad Johnson, but Johnson doesn't want to hear it, and he just keeps walking. The Bengals are in such a state of chaos right now ... Marvin Lewis needs to start practice Tuesday by beating Chad Johnson to within an inch of his life, just to send a message to everyone else. I'm not kidding. The Bengals would get better if that happened.
• The Ravens defensive orgy continues ... they intercept Frerotte again, and that makes six takeaways.
• The Redskins have a big 4th and 2 here, with 6:48 remaining, down a field goal ... it's a short pass to Ladell Betts, and he's just stonewalled. What is it with the Redskins going to Ladell Betts on these clutch plays? It seems like his success rate is pretty low.
• And finally, with 1:00 left to play, Gus Frerotte has been knocked out of the game. What took so long, I have no idea ... but I am positive that Gus Frerotte is a tough son of a bitch. Scott Linehan considers for a minute putting Marc Bulger in, but opts against it, since he doesn't want Bulger dead. Instead, he abandons the entire idea of trying to move the ball, puts WR Marques Hagans under center, and just has him kneel on it twice.
• That may be the saddest ending to a game I've ever seen. Teams don't usually take a knee at the end of the game when they're losing ... clearly, that wasn't the original plan, as Frerotte, on first down, dropped back and made a throw downfield. But he couldn't continue ... and at that point, Linehan said to himself, "Fuck this, it's not worth it, I don't want to play anymore ... let's just kneel on it."
• The Redskins are going to get one last chance at it, with 1:13 to play, 1st and 10 at their own 20, down by 3. Campbell takes a sack on second down, and that's not going to help matters ... on the same play, an offensive lineman was hurt, the Redskins have no more offensive linemen, and a defensive lineman will be taking his place. At this point, I'm betting against the comeback.
• Adrian Peterson, because no one else is going to do it, takes it upon himself to win the Vikings/Bears game ... I guess the Bears figured if the Vikings were dumb enough to kick it to Devin Hester, they should exchange the courtesy and kick it to Adrian Peterson. With 1:38 left, Hester just having caught an 81-yard TD pass, Peterson takes the kickoff and runs it back to the Chicago 38.
• Three plays later, the Ryan Longwell field goal is up ... and it is good. Vikings win.
• And now we have about a 10-minute period of inexcusable sports bar behavior ... there are essentially three rooms to the place, and one guy in charge of all the televisions, but still ... there's no excuse for the clock to read 4:24 before the TV guy manages to get the Cowboys/Patriots game on. This is a sports bar. Televising these games is your sole purpose. Either get it together, or give me the remote.
• LaDainian Tomlinson has 40 yards on the Chargers opening drive, and he ends up capping it with a four-yard touchdown run leap. Rivers handed it to him, I waited for him to make a cut to put his head down or something ... and he just said fuck it and took off from the 4. TD Chargers, in their snazzy new powder blue alternate jerseys.
• Meanwhile, the Cowboys have opted to leave Randy Moss wide open in the back of the endzone, which is an interesting strategy. 7-0 Patriots.
• YEEE-OUCH ... Julius Peppers hammers Kurt Warner, and as they both try to recover the ensuing fumble (Peppers has a slight physical advantage there), Warner's forearm gets twisted in a way that forearms shouldn't be twisted.
• Here, you can try it at home ... go lay on the ground, on your stomach, arms flat in front of you. Now, look at your forearm, and make the side of it facing the ceiling touch the floor, but do it without twisting your elbow or moving the rest of your arm ... and do it with the force of Julius Peppers landing on you. That's what Kurt Warner just felt.
• So here comes Tim Rattay, the guy the Cardinals signed because Vinny Testaverde wouldn't sign with them. From a big picture perspective, this is a rather shocking set of circumstances. We've got two quarterbacks squaring off, neither of whom was employed on Monday ... there's a 13-year age difference between the two, and the younger guy is 30. This has to be an NFL first on a couple of levels.
• LaDainian Tomlinson goes in again, making it 14-0 Chargers ... he's currently got 8 carries for 69 yards and 2 TDs. Norv must've let Marty Schottenheimer run practices this week.
• Maybe the Chargers did secretly hire Marty back ... it's the only explanation for this sudden resurgence. They close all practices to the public, and Marty coaches the team throughout the week. They trot Norv out on Sunday, and don't tell him anything about what's going on, slap a headset on him, and no one can tell the difference, Norv included. All the while, they've got Marty upstairs in a booth with tinted windows, and he's making all the calls ... and if the Chargers happen to make the playoffs, then they let Norv coach for real, because fuck it, why not?
• That's just my theory. It's probably wrong. But it's not crazy.
• Terrell Owens gets in the statbook with an early drop ... he still leads the league, I believe.
• The Raiders are facing a 4th and 42. For some reason, the pussies aren't going for it. They punt, and the punt almost gets to the first down markers. Well done, Shane Lechler.
• Sitting in Patriots owner Robert Kraft's box: Kate Hudson. No word on whether Kate has reciprocated and given Kraft access to her box. If she has, I fully expect Jay Glazer to get video of it.
• I could be wrong, but I think I just saw a stat that said Vinny Testaverde was 8-for-8. This should embarrass about 30 percent of the league's starting quarterbacks.
• Marion Barber might be one of the top five most fun players to watch in the NFL. Who else is on that list ... there's Tomlinson, Favre, Hester, Steve Smith, Randy Moss, Adrian Peterson's getting close, maybe a couple of others ... but Barber's making my list of five. He runs the ball like if he gets tackled, someone rapes his mother with a branding iron. On strength and sheer power of will, he leads all NFL running backs.
• Edgerrin James breaks a touchdown run for the Cardinals, as the Panthers try out a new tackling technique called "Gently Rub Your Chest Against Edgerrin James And Hope It Makes Him Uncomfortable Enough to Fall Down." It's mostly ineffective.
• Ugh ... Philip Rivers throws maybe the worst pass in NFL history, back across his body, five yards behind a receiver, into the arms of a Raider streaking to the endzone. It's 14-7, and it's a travesty that this game is that close.
• FOX gives us a close-up of some Panthers defensive player ... and I believe he has over 40 teeth. I have no idea who it is, but if he uses the Crest Whitestrips, he spends upwards of $7,000 per month.
• Terrell Owens gets in the endzone just before the half, making it 21-17 ... so there's some hope that it'll be a competitive game at the end, but I'm not holding my breath.
• Highlight from an earlier game: Maurice Jones-Drew, after scoring on the Texans, did the Daniel LaRussa crane kick pose. If do right, no can defense.
• Hey, Drew Carey debuts tomorrow on The Price Is Right. Awesome. I'm wondering about something, though ... I'm convinced that Bob Barker received his share of filthy sexual favors from the Showcase Showdown models, right? If Drew Carey partakes of the same kind of behavior ... do the models consider this an upgrade or a downgrade?
• Patrick Crayton catches a touchdown pass for the Cowboys, despite Rodney Harrison having a fist full of his jersey. And Rodney Harrison, despite having a fist full of Patrick Crayton's jersey, is bitching to the officials. He has absolutely no shame.
• Oh, Darnell Dockett, you dirty son of a bitch. The Cardinals defensive lineman just slammed Vinny Testaverde to the ground late ... I don't think he was flagged for it, but it was totally unnecessary, not to mention mean and disrespectful of his elders. It's amazing how I spent Vinny's entire career not really giving a damn about him, and suddenly, I'm personally offended when anyone tries to tackle him. I guess if anyone gets old enough, they become likable. Except Chris Berman.
• Marion Barber appears to be screwed ... he's in his own endzone, running backwards, multiple Patriots chasing him ... 90 percent of the running backs in the league are taking a safety right there, but Barber is a fucking beast. He's shoving guys off as soon as anyone gets close to him ... at least four guys weren't strong enough to tackle him right there. He actually gets out close to the 10 yard line. Unreal.
• Vinny drops back, wants Steve Smith down the sideline ... and Cardinals corner Roderick Hood just stops and decides he doesn't like running anymore. I think I just witnessed a man retire in the middle of a play. He was stride-for-stride with Smith ... and just stopped. No idea why ... but it gets my man Vinny on the board, and I couldn't be happier about it.
• Vinny's now 20-of-33 on the day, with no interceptions and 1 TD ... against a defense that's been pretty damn good at times this year.
• Meanwhile, Tom Brady, who's also pretty decent, finds Donte Stallworth deep over the middle ... Stallworth sheds a tackler, and that's going to make it 38-24. They've hung around for a while, but I do believe that effectively kills the Dallas Cowboys.
• And if that didn't, that Tony Romo interception to Junior Seau does. Kyle Eckel polishes things off with a 3-yard touchdown run ... and the Patriots assert their status as the supreme football beings on the Planet Earth.