With a little more than seven minutes to play in the fourth quarter of tonight's Game 5 between the Pacers and Cavaliers, Kyle Korver made a three. That was the last field goal that Cleveland would score until the buzzer sounded.
Korver's three had given the team a seven-point lead, which disappeared while they went cold. The Pacers tied the game with 33 seconds remaining, and the Cavaliers turned it over on their next possession. Things, in short, did not look great for them. And then LeBron unlocked whatever ridiculous final gear he has that allows him to do all sorts of ridiculous shit at once, and that was that.
First, with just three seconds to play, was this chasedown block on Victor Oladipo—which, uh, looked very much like it could've been goaltending, but that's not reviewable and, anyway, who wants to highlight truther this?
That was just the first act. Next was the buzzer-beater: a 25-foot three, drained right as time elapsed, to give Cleveland the 98-95 win and 3-2 series lead.
G/O Media may get a commission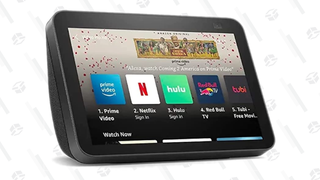 Yeah. It's Playoff LeBron season.