In what was a thoroughly embarrassing 31-point Game 1 defeat at the hands of the Houston Rockets, perhaps no Thunder player was exposed more than backup center Enes Kanter.

Kanter was routinely abused by the Rockets in pick-and-rolls, and also played a key role in James Harden's best highlight of the night:
A few minutes after that, Kanter was thrown into another pick-and-roll that resulted in an easy lob to Clint Capela. Right after the bucket, TNT's cameras made a well-timed cut to Thunder coach Billy Donovan:
It sure looks like Donovan is turning to assistant Mo Cheeks there and saying, "Can't play Kanter." He's probably right about that. Kanter has always been a decent big man off the bench when he's only asked to score and rebound, but his defensive deficiencies are too much to suffer when facing a team that is as deadly in the pick-and-roll as the Rockets are. It's no coincidence the Utah Jazz, who start defensive player of the year candidate Rudy Gobert at center, traded Kanter away.
Kanter being so bad on defense that his presence on the floor becomes untenable looks to be an annual playoff occurrence for the Thunder—remember when he was taken out of the rotation almost entirely during the Western Conference Finals last season? It's a particularly troubling one this year, with the Thunder's non-Westbrook offensive firepower at a dangerous low. If they expect to keep pace with the Rockets' points factory, they could really use someone like Kanter, a guy who can come in and easily score 20 in limited minutes, available to them.
G/O Media may get a commission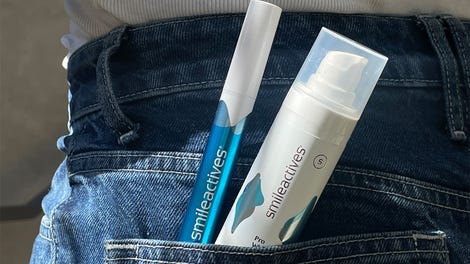 58% off
Whitening Powerhouse Pen & Gel Duo
This is the bind Donovan finds himself in, trying to find the best mixture of skilled but also deeply flawed players capable of slowing down the Rockets just enough to give Westbrook a chance to steal some games. They need Kanter to get some easy buckets, but how many outweigh his horrific defense? They need Andre Roberson to harass James Harden, but how long can they afford to have such a reluctant shooter on the floor? Can Semaj Christon and Norris Cole play well enough to allow Westbrook a few minutes of rest each game?
These questions were much easier to answer when the Thunder could throw two superstars at an opponent, but now it's just Westbrook, and he essentially has to be 2015 Finals LeBron every night while hoping his teammates give him just enough rebounding, defense, and shooting to stay within striking distance. They didn't give that on Sunday, and he didn't give them much, either. The Thunder have a lot of work to do.