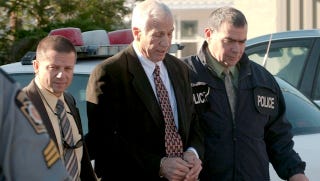 Among the revelations in last week's lengthy New York Times report on the backstory of the Jerry Sandusky investigation is that many of Sandusky's accusers were initially reluctant to tell their stories. "If the case went forward," the Times said, "who would believe them over a revered figure like Jerry Sandusky?" And now, sadly, those fears have been realized: Sara Ganim of the Patriot-News of Harrisburg is reporting today that Victim 1—the boy whose allegation three years ago triggered everything about the case into motion—had to leave school because he's being harassed by fellow students.
From Ganim's story:
Officials at Central Mountain High School in Clinton County weren't providing guidance for fellow students, who were reacting badly about Joe Paterno's firing and blaming the 17-year-old, said Mike Gillum, the psychologist helping his family. Those officials were unavailable for comment this weekend.
The lone silver lining, Gillum added, is that Victim 1 is drawing strength from seeing other alleged victims continue to speak up.
Alleged Jerry Sandusky victim leaves school because of bullying, counselor says [PennLive]