The NFL is the biggest sport in America because of betting. WagerMinds estimates that in Nevada, $12 million rides on any given football game. Marc Lawrence of PlayBook.com says another $250 million is at stake in offshore betting on a typical Monday Night Football game. So last night's debacle in Seattle didn't only affect the Packers' playoff hopes, or the NFC West teams competing with the Seahawks. There was big money at stake. This is a major problem for the NFL.
The Packers were 3.5 point favorites at most sports books, and had the game ended with an interception, as it should have, Green Bay would have covered. But a Seattle touchdown swung that, and the moneyline, and perhaps even more than the integrity of the sport, this morning is about figuring out just how much money changed hands.
According to ESPN.com, a spokesman for SportsBook.com says "70 to 80" percent of the action was on the Packers, and the Mandalay Bay book estimates 85 percent on Green Bay. An unnamed Vegas oddsmaker also says 85 percent. PlayBook.com puts the figure at 70 percent. R.J. Bell of Pregame.com says 68 percent, a number that equates to $150 million more on the Packers than on the Seahawks. Since 68 is the lowest figure we've heard, you can peg that $150 million as the minimum swing.
This morning saw good news for at least some bettors who had the Packers. Glen McGregor, a writer for the Ottawa Citizen, posted the above screengrab. SportsBook.com has decided to refund the money of anyone who got screwed by the replacement officials last night. As oddsmaker Russ Candler told McGregor, "I can't stand winning unfairly so I am going to give the punters their money back."
[Update, 2:15 p.m. It appears that SportsBook is only refunding the money of non-U.S. customers. For more, see here.]
G/O Media may get a commission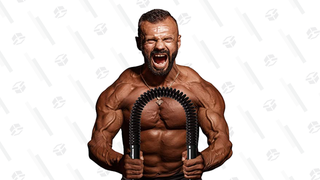 10% off
Zenooze Boa Power Twister
That's good PR for SportsBook.com, but a sign to anyone who lost money elsewhere that we're really at the mercy of these officials. Bettors hate uncertainty, and there's nothing more uncertain that a sport that can swing on one obscenely blown call. In this case, it just happened to affect the Packers—a public team that sees action from casual bettors—so the sports books have a nice profit to show, at the expense of us mooks. Will this keep money away in the future? If so, the NFL has a lot more to worry about than a little on-field integrity.