There's something pleasant about sports displaying symmetry; it's a reassurance, however misleading, that we aren't devoting so much of our lives to a random number generator. The ending of Seahawks-Patriots looked a lot like the ending of Super Bowl XLIX: It came down to a goal-line stand, the defense held, and the fateful play was one the defense had specifically practiced guarding against. This time Seattle won, 31-24, and while this doesn't come close to making up for a Super Bowl, the Seahawks will take it.

The Patriots marched down for a first-and-goal from the 2, and you knew the ball would stay on the ground, at least at first. Not just because it's the smart play, but because Bill Belichick has a sense of symmetry too, and of mischief. And sure enough, the first three called plays were a QB sneak, a handoff to LeGarrette Blount, and another QB sneak. The Seahawks front held firm, and with the game down to one play, the Patriots finally took to the air.
Yes, the dreaded, rarely successful fade route, but to Brady's favorite target, Rob Gronkowski, going against man coverage from safety Kam Chancellor, returning from a month out with a groin injury.
Sixty-six thousand refs in the stands called for a pass interference call, and they didn't get one. There surely was some serious contact between Gronkowski and Chancellor, but enough for a penalty? I don't think so, especially not since Gronk initiated the contact.
G/O Media may get a commission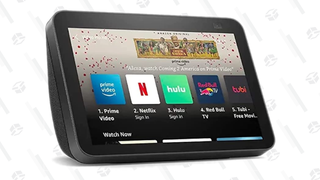 That's the plan, of course, on a play like this: Get up on the defender, then peel away to track down a high-arcing ball that's already in the air. The Seahawks know that plan too. Pete Carroll and his players spoke about how they successfully defended this play in one of their final practices of the week, with Chancellor matched up against 6-foot-4 practice squad TE Marcus Lucas, and how Chancellor disrupted the route with contact.
The Seahawks thwarted Gronkowski's and Brady's timing, and lured Gronk into contact, by lining up Chancellor a couple of yards off the line of scrimmage.
"He was playing off me a little bit, pretty far, farther than usual," Gronkowski said. "You usually don't see that, and it was a fake, so I had to go up to him and make a little move."
That little cushion, that single step back from the line, proved crucial. Gronkowski expected to take a couple of steps, get right up in on Chancellor, then turn outside. Instead he found himself with a larger head of steam, and made more contact than he intended.
"I wasn't trying to initiate contact," the tight end said. "It just happened. I just went up to him, and I just wanted to get on top of his toes. That's what you're taught — you get on top of his toes, make a little move and release outside. I just got up on his toes a little too much."
The collision had more force than Gronkowski planned: Both men got their hands up on each other, and while it's tough to see who grabbed who and where, Gronk was noticeably off balance when he released.
Chancellor too was off balance (and it looked like a nice little acting job to leave his feet), and don't underestimate how important that backward momentum was in officials' eyes—it can cover up an awful lot of handfighting. By never stepping up to meet Gronkowski, instead giving ground, Chancellor's body language was not that of a player committing a penalty. "I was going backwards," Chancellor said. "I was getting pushed the whole time. I wasn't really worried about a flag."
Now, if there's one thing Seahawks DBs are notoriously adept at, it's making contact and daring officials to call it. The knock on this defense (and while it may have been truer in previous seasons, it's definitely not untrue now) is that they'll commit letter-of-the-law fouls on uncounted plays, knowing the zebras simply can't and won't flag all of them. Tom Brady said he hadn't watched replays of that final pass defense, but knows that against the Seahawks, it can come down to a coin flip.
"I mean, there was a lot of — there's always a lot of contact with that team," Brady said. "Sometimes you get the call; sometimes you don't."
They didn't get it here, and New England suffered its second loss of the season, its first with Tom Brady under center. They're still two games up in the AFC East. Seattle's win kept them two up in their division, and in position for the NFC's second playoff bye. A rematch is definitely not out of the question, and it'd be a strategic and psychological masterpiece: These teams know each other all too well.