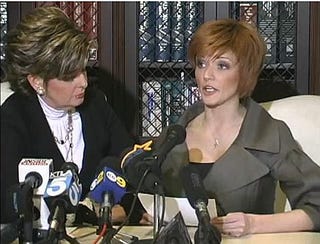 Those "Tail of the Tiger" golf balls are in poor taste, sure, but do they advocate domestic violence? That's the stance of Tiger's porn star, and — of course — Gloria Allred.
It's funny how chatty Joslyn James has gotten after someone found a way to make money off of her image, especially since she clammed up when we outed her as one of Tiger's mistresses. But there she was, at a press conference, denouncing the balls.
I feel that it is wrong for a golf ball to have my picture on it because golfers hit their golf balls with a lot of force," she said.

"As a victim of violence myself, it bothered me to think that someone would be standing with a dangerous club in their hands hitting a ball with my photo on it."
In case that wasn't clear enough, Allred helpfully demonstrated how golf balls work:
The point of this press conference was, what? To say it's not fair for anyone to profit from her tryst but her, perhaps. She surely seemed to be laying the groundwork for a tell-all, making public some of the hundreds of text messages Woods sent her.
You please me like no other has or ever will," Woods wrote last Oct. 1. "I am not losing that."

James, whose raunchy résumé includes flicks like "Big Breasted Nurses" and "My First Sex Teacher #12," insisted she was "in love with Tiger."

"Because of what he said to me and the fact that we were together for so long, I believed that he loved me, too," she said.
The golf ball says differently.
You're 'like no other,' Tiger Woods allegedly tells porn star Joslyn James in sexy text messages [NYDN]
Tiger's Special Balls Cause Mistress Uproar [Wei Under Par]
Earlier: Chaos In Tigerland: A Deadspin Investigation Into The Sexual Habits Of Pro Athletes