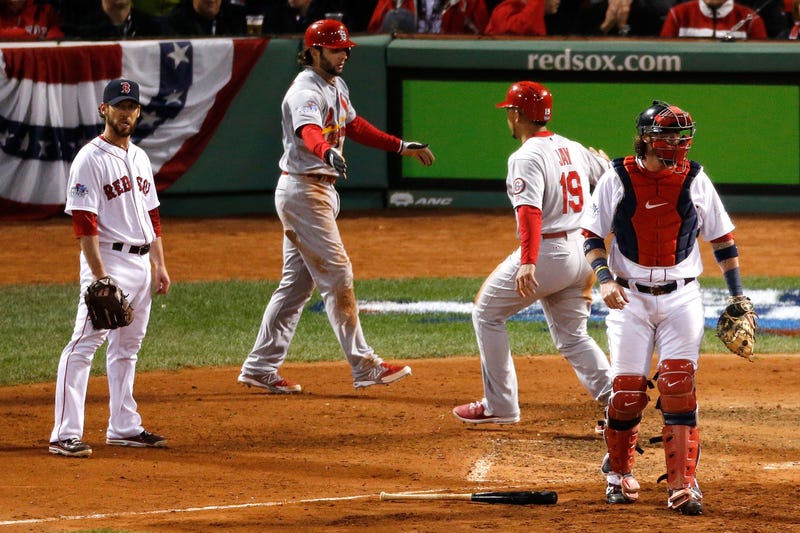 After David Ortiz's sixth-inning two-run homer put the Red Sox in front, Boston's reliable bullpen was in a position to take a 2-0 series lead to St. Louis. Craig Breslow relieved John Lackey with two baserunners and one out in the seventh, and everything fell apart.
Breslow's walk to Daniel Descalso loaded the bases and allowed Matt Carpenter to hit a sac fly and tie the game, despite Jonny Gomes's best efforts to throw home. After the ball got past catcher Jarrod Saltalamacchia, Breslow saw Jon Jay going for third and got greedy, flinging it at Stephen Drew in an attempt to end the inning. The pitch sailed over Drew's head, into Fenway Park's seats, and the Cardinals took over.
Carlos Beltran added another run before Junichi Tazawa replaced Breslow, but the damage was sufficient. The Cardinals held onto a 4-2 lead, looking like a much better team than the error-filled sadfest from Game 1.
The Red Sox—who had excellent plate discipline in Game 1—became very anxious when they suddenly faced a deficit in the later innings. Cardinals reliever Carlos Martinez faced eight batters over two innings and only threw 24 pitches. Boston's batters helped Martinez out, as they had a hard time taking pitches, except for Shane Victorino, who watched a breaking ball at the worst possible time for a strike three. Closer Trevor Rosenthal pitched a perfect ninth on 11 pitches, and now the series heads to Busch Stadium for three games.
Photo: Jim Rogash/Getty Images