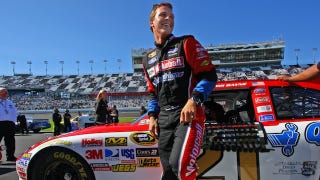 Divine superpowers failed Trevor Bayne this weekend when he was unable to ward off a personal plague in the form of a bug bite on his elbow that hospitalized the Daytona Cup winner. Bayne had been unstoppable since Daytona, registering an outstanding 40th in the Subway Fresh Fit 500 and a blazing-hot 35th spot finish in the Goody's Fast Relief 500.
Even with his body pulsing with venom, Bayne battled on at the Texas Motor Speedway on Saturday night, refusing to let tragedy affect his driving according to ESPN:
The swelling went down early in the week, but after it returned midweek with a rash, Bayne was convinced following Saturday night's race at Texas Motor Speedway to undergo tests to determine the cause.

The condition that has Bayne's elbow swollen twice its normal size did not impact his performance at Texas. The 20-year-old driver finished 17th, his best since Daytona.
Let no man doubt Bayne's courage. This is how champions are forged. Once Bayne's rash and swelling clear up, it will be safe to resume taking glorious low-angle photos of him for marketing purposes.

Trevor Bayne released from hospital [ESPN.com]