There's trouble a-brewin' in Eugene as two Oregon football players have been accused of stealing computers from a fraternity. It's a classic campus sports crime story with a neat little dash of racial strife.
It started on Saturday night/Sunday morning when police were called to investigate the theft of two MacBooks and a "valuable" guitar from the Sigma Alpha Epsilon house. No suspects were named in the police report, but rumors almost immediately started swirling on Twitter that starting quarterback Jeremiah "Holy Moly" Masoli and wide receiver Garrett Embry were the culprits. Police still have not named either of them as even a "person of interest," but the student newspaper is now reporting that a fraternity member called them immediately after the incident to say that Masoli and Embry were the ones to blame. (Even though Duck athletes apparently get free blinged laptops anyway. Some perfect crime!)
Here's where it gets, um ... uncomfortable:
The Emerald received two voicemail messages from a phone belonging to University sophomore and SAE member Wayne Kohnke early Sunday morning just after the incident occurred.

"Hello," one of the messages said. "Wake up. It's the story of a lifetime. Jeremiah Masoli and Garrett Embry just stole all my friend's possessions ... We need a story run on this. Do you understand?"
Okay, that's a little odd, but ... what was in those ellipses? Buster Sports has what appears to be the original version of the story published on the Daily Emerald website and, if accurate, there is a clause missing from that sentence:
"They're a bunch of fucking hoodrats and we need a story run on this."
Maybe drunk dialing the school newspaper isn't such a hot idea. Why would they feel the need to cleanup the frat boy's language? Is it because Masoli and Embry are minorities and SAE ... well, I don't know what the ethnicity of this particular person is, but looking at the fraternity's websites—whoo-boy, that's a lot of white guys.
G/O Media may get a commission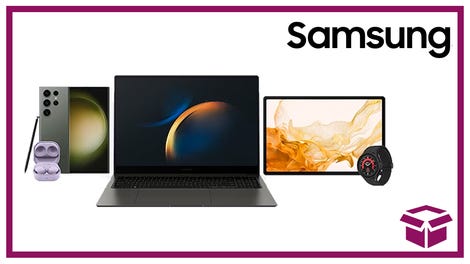 24 hour deals
Discover Samsung - Daily Deal
So we have football players who will likely be accused of getting special treatment from administrators and campus police; frat boys who might be getting special treatment from the school newspaper; plus two minority celebrities being accused of a crime in a lily white town. Oh, and right about the same time on Sunday morning, the team's freshman place kicker was beaten within an inch of his life in a unrelated incident. It should be a fun spring semester up there.
Report links Masoli, Embry to fraternity theft [Oregon Daily Emerald]
Jeremiah Masoli, Garrett Embry Called 'F*cking Hoodrats' by Frat Kids [Buster Sports]
Sources: UO Kicker Beating, Frat Theft Unrelated [SBB]