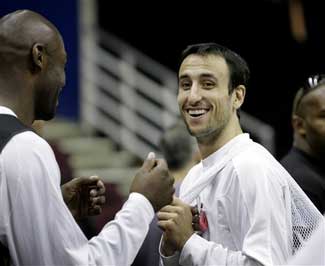 We're not sure what the official name is for what we'll be doing to the Spurs when if they win the NBA Championship tonight. Will we coronate them? Dub them a dynasty? Crown their asses?
Now that we see the Cavaliers are unlikely to make any major changes — which will assure Mike Brown's continued popularity in the city — it looks rather unlikely the Spurs are going to "miffle" this opportunity to close it out in four games. (If they win tonight, it will be the second of their four titles to be clinched away from the Alamodome; they won at Madison Square Garden in 1999.)
But they're going to go ahead and play it tonight anyway, and hey, you never know: Maybe LeBron is the chosen one. And some of you might actually watch it. Maybe.
Don't Expect Big Changes In Game 4 [True Hoop]