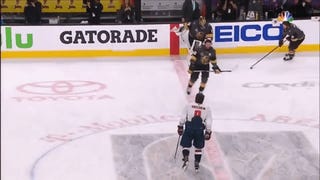 Alexander Ovechkin's and Marc-Andre Fleury's playoff familiarity goes all the way back to 2009. Fleury's side has won every single one of their series (even if he happened to be on the bench for some of that). That could change tonight, obviously. Even before puck drop, they were sending each other messages.

NBC's cameras caught Ovechkin giving Fleury a little love tap during the pregame skate, and Fleury later responded with what looked like a legit whack.
Not good-natured, exactly. Not bad-natured, either. Just two old rivals letting each other know that that they're thinking about them.