Ed Rush—current Pac-12 head of officials, former NBA referee and director of officiating from 1998-2003—reportedly told referees officiating the Pac-12 tournament he would give them money or pay for a trip to Mexico if they "rang up" Arizona head coach Sean Miller.
Rush, according to a source within the Pac-12 officiating group, told a group of referees on the Thursday of the Pac-12 tournament in Las Vegas that he would give them $5,000 or a trip to Cancun if they either "rang him up" or "ran him," meaning hit Miller with a technical or toss him out of the game. Rush then reiterated during a Friday morning meeting, according to one referee in attendance, that officials should take similar action against Miller if he did anything on Friday in the Pac-12 semifinals against UCLA.

"He was emphatic about not dealing with him (Miller)," the ref told CBSSports.com. "He made that perfectly clear."
In the Pac-12 Tournament semifinals against UCLA, Miller was T'd up by referee Michael Irving—who, according to CBS's source, was present when Rush made the offers—with less than five minutes left in the game. Miller disputed a double-dribble call that went against Arizona guard Mark Lyons and argued with Irving that UCLA had touched the ball before Lyons picked it up.
UCLA was awarded two foul shots and eventually won the game 66-64. After the game, Miller was incensed about the technical and claimed he hadn't cursed or been warned or otherwise antagonized Irving.
The Pac-12 has investigated and issued a "Nah, it's cool. He was just kidding" statement, but CBS's source is convinced the only reason Irving rang up Miller is because of the meeting with Rush. The referee claims such a technical is out of character for Irving.
"It was absolutely because of what was said in the meeting. There's no doubt in my mind. It's a bad position to be put in."

"As a basketball referee, it's a horrible position to be put in by your supervisor," he continued. "If you don't do anything, you probably won't get any good games down the road — or you may not get any games at all. That leaves us in a tough spot."

...

"He's a bully," the referee said of Rush. "He just bullies everyone. That was his whole tenor of the meeting on Friday. We're all afraid of him. He's the most respected basketball officiating person on the west coast and he's been given all the juice."
G/O Media may get a commission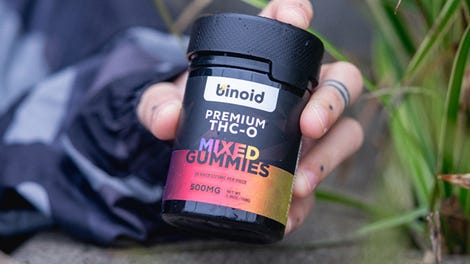 25% Off + Free Shipping
Binoid THC-O Gummies
Pac-12 head of officials investigated for targeting Arizona's Sean Miller [CBS]