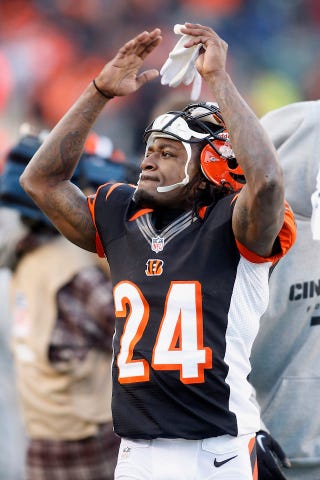 Has it really been a year-and-a-half since Pacman Jones was last sentenced by a judge for something or other? It's been so long that Pacman no longer wants to be called Pacman, never mind that Pacman is still the name that's on Pacman's Twitter handle. But look! Pacman's Twitter has news of an arrest about the player who doesn't go by Pacman anymore:
The Cincinnati Enquirer confirmed that Pacman was arrested on one count of assault for allegedly hitting a woman. USA Today spoke to Pacman's agent, Peter Schaffer, who said Pacman was outside a bar after the Reds-Rockies game last Wednesday when two women approached and asked to take a photo with him. Pacman declined. He was then hit in the head with a bottle from a short distance away and immediately reacted:
"He turns around and immediately slaps the person. He has no idea what's going on or who threw the bottle," Schaffer said. "His teammates have enough of this and they walk out."
Jones had not yet been formally charged as of 1:30 p.m. today, though he is expected to surrender to police. Schaffer also told USA Today that Jones declined to take a photo with the women "because he's married and the last thing he wants is a picture with two women showing up on Twitter or something."
Update (5:01 p.m.): Here is video of the incident.
[Cincinnati Enquirer | USA Today]
Photo credit: Getty