You'd better go to other people's funerals, else they won't go to yours. Even if you don't know the source of the quip — that'd be Lawrence Peter Berra, known to the world as Yogi — it'll follow its speaker to the grave. Like Casey Stengel, another of baseball's never-ending fortune cookies, Berra had the luck to reign over the sport when writers, not television, were the arbiters of fame. Writers, unlike microphones, had (and have) a way of massaging quotes in the retelling, and someone with a knack for crossing up his words might still read a half-decent line in the papers the next morning.
Berra was full of 'em. The future ain't what it used to be. It's like déjà vu all over again. If you get to a fork in the road, take it. It ain't over till it's over. And I never said most of the things I said. Those look great on the page. Then you get to a fellow malapropism artist like, say, Jerry Coleman, who for 50 years made his post-MLB living by talking into a live mike, and history was less kind.
Coleman was a bona fide Greatest Generation headliner — World War II and Korea pilot, MVP of the 1950 World Series, Ford C. Frick Award winner, Mickey Mantle's roommate. He was 89 when he died Sunday; he'd taken a bad fall in December and suffered head injuries. To those who knew him, he was a singular figure. It's not the kind of ending he might have imagined when he was flying, no shit, 50 bomber missions in the Pacific theater and another 60 over Korea.
The San Diego Union-Tribune ran an uncommonly thorough and elegiac obituary for Coleman that's worth your 15 minutes. The baseball stuff's great, but the best are his war stories, which he was apparently reluctant to retell. For instance:
Same as Ted Williams, Coleman left baseball a second time and reported for duty in the Korean Conflict. Before it was over, he had earned two Distinguished Flying Crosses, 13 Air Medals and three Navy Citations.

"There were times," Coleman said, "when you were up there and realized that all you were doing was practicing death."

He flew a Corsair on bombing runs over North Korea, often operating at night without running lights on radio blackout. Coleman told of a harrowing night sortie in which his vision was further impaired by oil leaking all over his windshield. Opening his hand-cranked canopy, Coleman lost his headset to the wind, essentially rendering him deaf, dumb and blind while negotiating the hills.

"He's flying a plane loaded with bombs in the pitch black and his oil gauge is dropping," said longtime broadcasting partner Ted Leitner, adding that it was only with intense prompting that Coleman would share his wartime travails. "Being a typical Marine, he decided to complete his mission and hope he had enough oil to finish. He got his plane down. Just imagine, though, living with the thought of getting shot out of the sky every day."

Headed out on another mission, Coleman's plane had risen just 100 feet when the motor died. Instead of unloading the bombs on the airstrip below, putting military personnel at risk, Coleman crash-landed the jet with the knowledge that the bombs most likely would detonate upon impact.

They didn't, but Coleman's plane flipped over. The straps of his crash helmet were suffocating him as he was pulled from the wreckage, whereupon a Navy corpsman revived him.
G/O Media may get a commission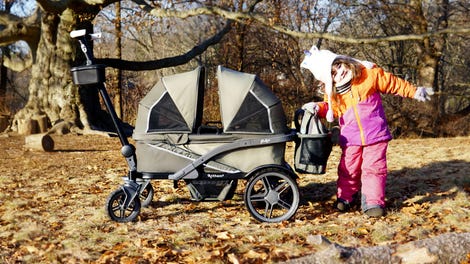 30% off
The Anthem All-Terrain Stroller Wagon Adventure Bundle
Go everywhere with your kids
This must-have bundle nets you either of Gladly's award-winning Anthem2 or Anthem4 All-Terrain Stroller Wagons as well as must-have accessories like a parent cupholder, a removable storage basket, extra-large canopies, a nap system, quilted comfort seats, a cooler bag with a padded shoulder strap, and a travel bag.
He preferred to keep his head down when people would honor him for his service or for his longevity in the game. It stands to reason, then, that it grated on him mightily when he developed a reputation for flubbing lines during broadcasts, to the degree that Colemanisms became a term of art. They became such a part of his identity and yet so wounding to Coleman that the Union-Tribune in 2,600 words couldn't find space to include a single one, only hinting at them with the infinitely delicate mention of "some of the descriptions that didn't quite come out right." They were something, alas, he couldn't shake.
"He laughed them off, but he hated the living hell out of the malaprops and the attention they brought him," Leitner said. "I mean, he hated them. He'd go to Milwaukee and they'd do a 'Who am I?' thing on the scoreboard, then play a malaprop of Jerry's. That embarrassed him. Who wouldn't be embarrassed? For the longest time, too, I think it might've kept him out of the Hall of Fame.

"People are always rattling off Colemanisms to me. I say 'Look at the sum of the man.' When you think of everything else the man was about, the things he did in his wonderful life, who gives a bleep (expletive) if he misspoke?"
Now, having to talk about baseball on live radio and television broadcasts for five decades is an impossible thing to do perfectly, so there's no shame in the occasional blunder. Here then, with all respect to Coleman's life lived well, are some of the finer Colemanisms pulled from various corners of the Interwebz, since the Union-Tribune declined to elaborate:
"Willie Davis is not as young as he used to be."
"There's someone warming up in the bullpen, but he's obscured by his number."
"Sunday is Senior Citizens' Day. And if you want to become a senior citizen, just call the Padre ticket office."
"Young Frank Pastore may have just pitched the biggest victory of 1979, maybe the biggest victory of the year."
"Mike Caldwell, the Padres' right-handed southpaw, will pitch tonight."
"Houston has its largest crowd of the night here this evening."
"Well, it looks like the all-star balloting is about over, especially in the National and American Leagues."
"What we have here is a blowout, or a possible great comeback."
"If Pete Rose brings the Reds in first, they ought to bronze him and put him in cement."
"I've made a couple of mistakes I'd like to do over."
"Larry Lintz steals second standing up. He slid, but he didn't have to."
"That big guy, Winfield, at 6'6", can do things only a small man can do."
"I challenge anyone, even with a radar machine, to hit that slider."
"I've never seen a game like this. Every game this year has been like this."
"If I knew how to spell it I'd say déjà vu."
There are more, many more — these are simply some of the most Berra-esque. And some of them look pretty swell in print, with the same mirror-in-front-of-a-mirror quality that made Yogi a staple of quote-a-day desk calendars.
One hopes that whatever ribbing the people of San Diego (and elsewhere) inflicted upon Jerry Coleman for these gaffes was gentle, and offered with the knowledge that whatever their delusions of superiority, he had been through a hell of a lot worse.
Padres legend Jerry Coleman has died [San Diego Union-Tribune]
Photo credit of Coleman turning a double play in 1950: AP