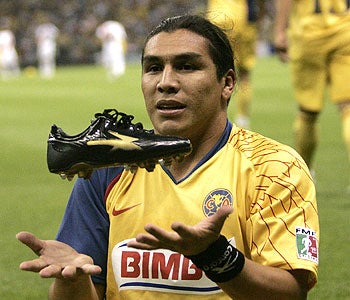 Salvador Cabañas—a striker for Paraguay's World Cup team—was shot in the head last night in Mexico. He is in critical condition, with the bullet still lodged in his brain, but that's not going to stop ghoulish rubbernecking.
Details are still sketchy, but Cabañas was apparently at bar in Mexico City (where he plays his club ball) and was either robbed or attacked as part of a barroom brawl. Two men were arrested for the shooting, but it seems that while waiting for paramedics to arrive someone thought it would be an awesome idea to snap a cellphone shot of Cabañas, bleeding and unconscious on the sidewalk, and upload it to the internet. If you've been wondering what the line of demarcation is for the acceptable uses of Twitter, it's somewhere north of "documenting attempted murder in real time."
Guanabee has posted the photo, which is both gruesome and very disturbing, so consider yourself warned before you click. [NOT SAFE FOR ANYONE.]
Paraguay qualified for the World Cup this year and Cabañas is one of their most experienced and prolific scorers. Here's hoping he just survives to see it.
Salvador Cabanas Shot [Guanabee]
BREAKING NEWS: Paraguayan International Salvador Cabanas Shot In The Head [Goal.com]