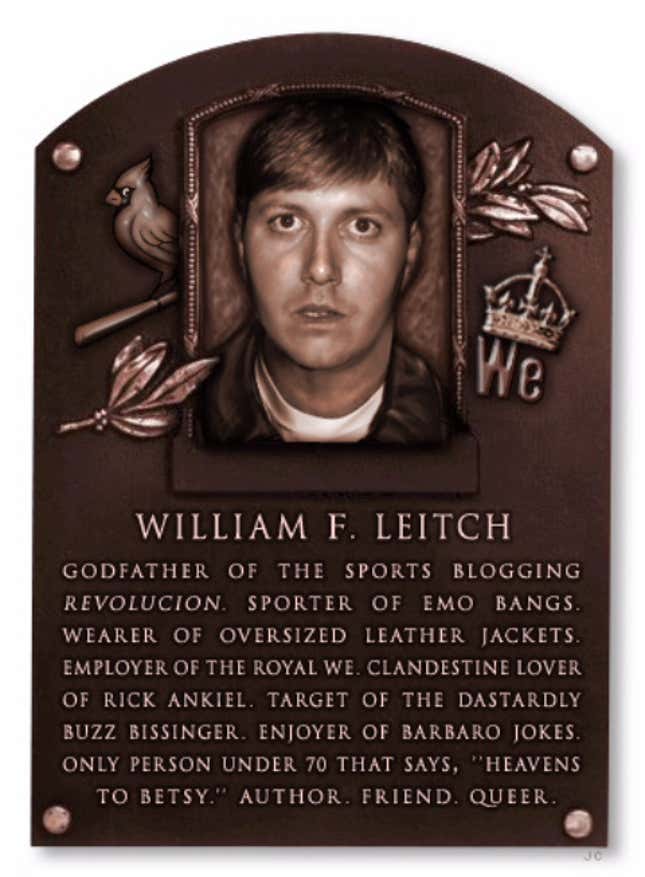 Well, that was fun, wasn't it? I'd like to thank ALL of our roasters for their contributions to today's festivities. I can't think of a better send-off for our man. I'd also like to thank the always brilliant Jim Cooke for designing the above plaque, at last granting Will Leitch permanent immortality here on this very site. Now and forevermore. Until this post gets buried by the next one. Good thing we bypassed the voting process, because there's no way he would have gotten 75% of the vote.
We've given Leitch plenty of skewering here today. But, as you can tell, we kid because we love. Leitch, you have not only helped revolutionize the way sports are covered in this day and age, you also helped redefine what it means to be a sports fan. Three years ago, being a sports fan meant you had to be a know-it-all, armchair coaching dipshit. You've helped destroy all that self-seriousness. You've helped make sports fun again. I cannot think of a better legacy to leave. And to accomplish it all while being just about the nicest person around is a minor miracle. I think I speak for us all when I say, from the bottom of my heart: Thank you. Thank you very, very much.
So here's to you, Will Leitch. May your new career bring you much newfound wealth and prosperity. We'll miss you terribly after tomorrow, especially once Denton manages to ruin this site for good. Adios, good friend. Don't be a stranger.
And now I ask that you all join me in raising your glass, whatever may be in it, and saying with me:
CHEERS, YOU MAGNIFICENT BASTARD.
Daulerio: And, honestly, you all must come back tomorrow. Mr. Leitch also his share of surprise posts — ones that will bring his editorship at Deadspin to its logical, fitting conclusion...