Hassan Whiteside was awful for the Heat in their five-game playoff series against the Sixers, and everyone knows it. The 28-year-old big man, who broke out as an in-the-paint stud with Miami back in the 2014-15 season, looked completely checked out in his first postseason games since 2016. He was dominated by Joel Embiid and the rest of the Sixers' small-ball lineups, averaging just 5.2 points and 6.0 rebounds per game in the series. He got into foul trouble easily, grumbled about his lack of involvement, and turned the ball over like a dude playing 2K for the very first time (once every 6.4 minutes). In the final loss, the Heat's highest-paid player only played 10 minutes and couldn't make a field goal.
In his post-mortem press conference on Monday, Heat president Pat Riley called out Whiteside for his lack of playoff readiness, both physically and mentally. "There was no doubt he was in a bad state in the playoffs," Riley said, adding that Whiteside and coach Eric Spoelstra were going to have to sit down and fix their "disconnect" this offseason. Via the Miami Herald:
"By the time we got to the playoffs I don't think he was ready. He wasn't in great shape. He wasn't fully conditioned for a playoff battle mentally. He and we got our heads handed to us."
Whiteside and Spoelstra clashed early in the season as well, most notably in a very dumb dispute in January that saw Whiteside refuse to wear a brace when he came back from a knee injury. Spoelstra took a more optimistic tone on Whiteside when talking to reporters last Friday, however, blaming that knee injury for negatively impacting the center's entire season while also praising the work he's done to improve. "I could not be more proud of a player [for] transforming himself as a guy that could pile a bunch of stats in a way that we had never seen before to a guy that really impacted winning," he said.
Maybe those kind words come from the fact that Spoelstra and Whiteside's fortunes appear to be tied together for at least the near future. Whiteside is owed more than $25 million next season, with a $27 million player option in 2019 that he likely wouldn't be able to match anywhere else. He carries almost no value as a trade piece, and his team has barely any cap space to sign new free agents. That means he and the Heat are stuck with each other for now.
G/O Media may get a commission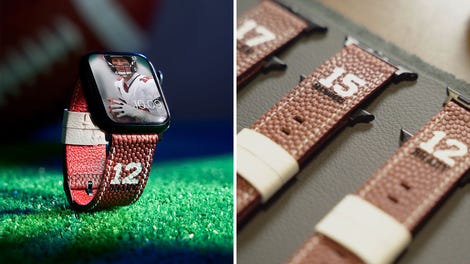 Official NFL PRODUCTS
Official NFL Apple Watch Bands
But there's still a chance for hope. As a low-post rim protector who can't shoot, Whiteside came into the NBA at the exact wrong time for his skillset, but even that bad luck doesn't fully count him out. Rudy Gobert, despite the clear problems he had switching on the Rockets' guards on Sunday, remains one of the most impactful defensive big men in the game, and he's become the kind of player Whiteside threatened to be a few years back, when he was putting up triple-doubles with points, rebounds, and blocks. For now, yes, Whiteside is a man out of time getting left behind by smaller, rangier players. But the blueprint for his success—at least as an important contributor if not a team centerpiece—is still visible, and with the right support and the right state of mind, it's within his grasp.