Seen on MySpace: Stanley Cup Winner. Likes: Team Edward. Dislikes: When my mom comes in my room without knocking first.
What does Patrick Kane do in the offseason when he's not busy getting stuck atop a ladder? (As one brilliant commenter pointed out, if only there were some way to climb down a ladder.) Read Breaking Dawn, of course, as any self-respecting hockey player would.
It was his mother, Donna, who caught the 21-year-old in the act - of reading a book.

While the fourth installment of the "Twilight" series isn't exactly Tolstoy, the image of Kane in the bedroom of his Buffalo childhood home, curled up with a book instead of carousing on the streets of his hometown, is fairly startling.

"Ohhhh," Kane said with a laugh after regaining his composure. "She would throw me under the bus like that. I watched the first three movies and was really interested … so I decided to read the fourth book. I kind of snuck it in there, and she walked in a couple of times with me reading the book. I tried to hide it, but it wasn't happening."
"Gosh mom, don't you remember that when I put my Demi Lovato poster up, that means you can't come in?"
When Patrick was a rookie at training camp the first year, they had him rooming with (veteran) Kevyn Adams," Donna Kane said. "Patrick walked into the hotel room and Kevyn was reading a book and Patrick said, 'Why would you want to read when you don't have to?' Kevyn said, 'Pat, it's good for you, it teaches you, especially if you enjoy what you're reading.'

"So what does Patrick do this summer? He's reading a 700-page book."
Yeah, okay, but those 700-pages have a non-stupid equivalency; it's akin to you or I reading a Denny's placemat.
G/O Media may get a commission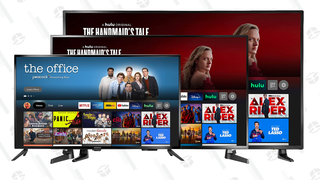 Up to 44% off
Prime Early Access - Insignia Fire TVs
Sometimes we forget that Kane is still a young kid. Then we remember that he's older than 14, and he's a boy, and we point and laugh.

Kane trying to get a read on growing up [Chicago Tribune]