With his first-period goal, Bryan Rust has now scored six times in this postseason—a Penguins playoff rookie record. It may be a while before his next one. Early in the third, Rust suffered what appeared to be a concussion on this hit from Patrick Marleau.
Rust went through the concussion protocol, came back to play one more shift (uhh), then left for good. He's now listed as day-to-day with an upper-body injury. Marleau was whistled for an illegal check to the head, but we found out this morning that he won't face any further discipline.
Mike Sullivan presumably disagrees, calling it "a blindside hit to the head." Marleau said he didn't intend anything by it:
"I kept my shoulder in and elbow in and everything. I just kinda let him skate into me. I wanted to keep everything down. Didn't get too up high."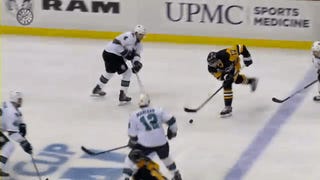 I don't think Marleau intended to hit Rust that high, and not just because he's a perennial Lady Byng finalist. Rust sort of half-whiffed on a dump, recommitted to playing the puck, and, caught in between strides, made for an awkward target. Marleau was always going for the hit, but he was certainly leading with his hip.