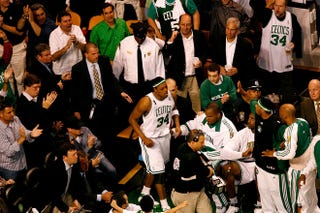 As Paul Pierce lay underneath the basket, writhing in pain, a trainer ominously hovering, it appeared a Boston victory in this game, this series, was highly unlikely. Pierce gets carried off the court, still grimacing and immobile, in a manner that would suggest he'd either been stung by a Man O'War or knee-capped by a cameraman.
Then, Michele Tafoya in full-on political assassination-reporting mode, passes along the news that "Pierce has put his own weight on both of his legs..." Still, it seemed ominous. Only a few minutes later, however, Paul Pierce emerged from the locker room with a black stabilizing brace on his right knee, hopping up and down, ready to, for lack of better words, bring it.
Once Pierce returned, sprained knee and all, Boston never looked back.They quickly disposed of the Lakers 98-88 to take the first game in the series. Pierce finished with 22 points on the bad wheel and, if the Celtics win this series, most likely solidified himself in Boston's pantheon of bloody sock-dom.
Lakers-Boston [Boston.com]
Boston draws first blood [LA Times]