On February 11, the Cavs will visit Boston for the second and final time this season, and a very brief tribute was planned for Isaiah Thomas, who was traded away in the Kyrie Irving deal last summer—it was to be a short video played before pregame introductions. That was beyond the pale for Paul Pierce, who is having his number retired after the game, and wants the night all to himself.

"(Thomas) had a shot to be honored," Pierce said. "You came to Boston. Whether you are playing or not, you should have had your tribute then. I just don't see how, if someone is having a jersey retirement, they're going to be running other tributes for other players."
Pierce said he shared his frustrations with Danny Ainge yesterday afternoon, and Ainge passed them along to Thomas, who tweeted this last night:
Thomas's video tribute had originally been planned for Jan. 3, but he requested that the Celtics postpone it because he wasn't playing in that game and he wanted his friends and family there to see it. The Celtics happily obliged, with no one realizing that the new date also happened to be the night of Paul Pierce's jersey retirement ceremony.
Pierce made no bones about not wanting Thomas's tribute video to air that night:
"Danny and I talked about it for 40 minutes," Pierce explained to ESPN early Tuesday afternoon. "He told me, 'This is what we have planned,' and at the end of the conversation, he said, 'If you don't want us to do Isaiah, we won't.' So I told him, 'I really don't.' So that was it."
G/O Media may get a commission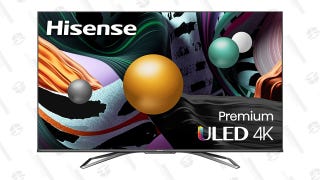 Save $350
Hisense ULED 65" Android 4K HDR Smart TV
Of course, Piece was downright politic compared to Rajon Rondo, who just wants someone to tell him why they were going to honor Thomas in the first place.
"What has he done?" Rondo said of Thomas.

Told that Thomas led the Celtics to the Eastern Conference finals last year, Rondo remarked, "Oh, that's what we celebrate around here?"

Reminded that it would be only a short video tribute, similar to the one he received when he returned to the Garden for the first time after the Celtics dealt him to Dallas, Rondo said, "This is the Boston Celtics. This isn't the Phoenix Suns, no disrespect to any other organization, but you don't hang conference titles. Do we hang going to the conference finals? What do we hang here?"

Championship banners, Rondo was told.
"OK, cool," Rondo said.