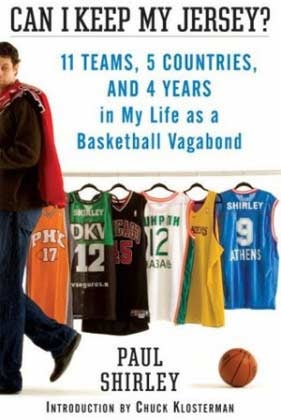 Former NBA player Paul Shirley is the author of Can I Keep My Jersey?: 11 Teams, 5 Countries, and 4 Years in My Life as a Basketball Vagabond. He is currently in Spain, and writes today for Deadspin about the difficulty of trying to watch Game 1 of the NBA Finals
Los Angeles 1, Boston 0.
No, that's not a typo.
From my vantage point, the Lakers won Game 1 of the NBA Finals. I'm not making such a claim in protest — I'm not questioning a particular foul call or coaching move. I'm making that claim because I stopped watching near the end of the second quarter. The Lakers were ahead 45 to 42 and I was sitting in the kitchen, watching the game on my computer. And I was tired. In my defense, it was 4:13 in the morning.
I wasn't using TiVo or a DVR or the old 2-head RCA my parents held onto until its work to tape-digestion ratio was 1:3. The explanation is simpler: I'm in Spain. That I was able to watch the game at all is a minor miracle. That I made the effort to suffer through extreme fatigue to view a basketball game can only be explained by two things. The first is the same reason shared by anyone else born prior to 1980 — for historical reasons, it's a compelling series.
The second reason is a little more interesting. I haven't seen a single NBA game this year. I don't watch much basketball anyway, but my location for the season — playing for a team on the island of Menorca, where TNT isn't exactly a fixture on the local channel menu — didn't help.
My lack of exposure to the NBA was disappointing because of the Boston Celtics.
Like 70 percent of the white males my age, I grew up idolizing Larry Bird. Like those same guys, I hated the Lakers. Like them, too, I learned about basketball by watching the Celtics.
But that's not why I wanted to watch the Celtics this year. I've played in the NBA. Not to be condescending — I, of anyone, have no room to judge — but once I saw what went on outside the big top, the circus lost its luster.
However, there have been some singular personalities along the way. One of them is Kevin Garnett. After spending a training camp with Garnett in Minnesota, I was oddly fascinated with how he would adapt to a new team.
Because I know how to read, and because the phone company in Menorca was able to hook up an internet connection in eight short weeks, I was able to keep up with the Celtics' progress. It seemed like they were doing okay without my constant observation.
At the same time, another man around whom I spent some time in training camp, one Kobe Bryant, was making a run toward the postseason, and toward the MVP award.
As the Finals drew near, I was actually a little excited by the prospect of watching basketball. The Lakers against the Celtics. Again, obviously, a big deal. But more important, from my perspective anyway, it was a matchup of two of the most impressive basketball personalities with whom I've spent any time. They were impressive for completely different reasons, but I'll get to that.
First, I have to explain how I came to be able to watch the game at all.
When my season ended in Menorca, I "moved" to Barcelona. I'm in the city for reasons that are part of a moderately romantic story that would pique the interest of anyone with a pulse. But that story isn't why we're here.
Basketball is big in Spain, but it has not yet climbed any higher than number 16 in the ranking of the country's most popular sport. Number one being by Champions League Soccer, number 15 being rec soccer played by sufferers of spina bifida.
While basketball continues to play the proverbial second fiddle, its popularity has grown thanks to a very tall Spaniard who plays almost no on-the-ball defense and who wears the raggediest beard this side of Artis Gilmore.
Pau Gasol is from Barcelona. As such, and because these are the NBA Finals , I assumed that it wouldn't be difficult to find a place to watch the game. Big city, Spanish participant — surely the late start wouldn't be a problem.
By 2:24 a.m., I had finally succeeded. I was settled in a stool in a Mexican bar on my street, watching Robin Roberts dissect the evolution of the sky hook. I didn't know why she was dissecting the evolution of the sky hook. Maybe, I thought, they were about to show the 1987 NBA Finals.
Getting to Robin Roberts took some doing.
I started on the Rambla — the street every tourist in Barcelona knows. I hoped that an Irish pub I'd seen might be of some help.
It was not. I did receiver my first clue though: a map marked with the locations of other similarly themed places of business. I quickly learned though, that the Irish and the English have even less interest in basketball…
"The N – B – what?"
Next plan: canvass the neighborhood. I had another lead, given to me by one of my few friends in the city. But the place was closed for construction. Upon exiting the former Linea 6.25, I asked a waiter at a nearby restaurant if he had any ideas. He did: a bar called Bagoa, which he claimed was always open til 5 and which supposedly showed NBA games-a fact to which he could attest, having stopped by many times after work. For some reason, his lazy eye actually made him seem more trustworthy, at least on this particular subject.
After some sleuthery, I found Bagoa. The bartender seemed shocked that I would imply that they would stay open past 2 am. Tip-off-3 a.m. I was beginning to lose faith. And my dwindling hopes were thanks to encounters with the one problem I didn't think I'd have. In Spain, supper doesn't even start til midnight.
I went next door, where the bartender said, "Did you try Bagoa? They're always open until at least 4 or 5." Obviously, there was a breakdown in communication between proprietor and the general public at the venerable Bagoa.
Next up: another English pub. According to the blond youth behind the counter, they MIGHT be open until 3.
I put some other Barcelona contacts on the case…nothing.
I asked around in the district known as the Born. Everyone looked at me like I was an insane person.
And then, inspiration: Why not the Mexican bar that is all of 4 paces from my front door? It wasn't exactly what I had envisioned, which was a rowdy pub filled with Spanish dudes, some of whom were clapping me on the back whenever Gasol made a fallaway. In fact, when Robin Roberts was on the screen, I wasn't even sure I'd make it to tip-off; it looked for all the world like they were about to throw me out. But at least I can say that I watched James Taylor do the national anthem in El Ultimo Agave.
Of course, I'm not sure if what they were showing was '08 James Taylor or '87 James Taylor. I doubt the crowd recognized much of a difference.
When El Ultimo Agave kicked out its ultimo customer (me), I reported upstairs to my computer. I had done some work earlier in the evening and had learned a little about how to watch live sports over the internet using means of questionable legality. For me, the answer was a program or protocol or plugin called SopCast. I had doubts as to whether it would work consistently but, lo and behold, there was Mark Jackson making grand statements with a complete lack of any sense of restraint or irony.
It didn't take me long to remember why I had wanted to watch the game in the first place.
I should add a disclaimer here. I wrote a book about a few years of my basketball career. In that book, I did my best not to be too judgmental. But I failed on several occasions. Certain people were just that difficult to be around. One of those people is Kobe Bryant.
My first NBA training camp was with the Los Angeles Lakers. I quickly realized that Kobe Bryant was selfish, arrogant, and completely insufferable. I also quickly realized that he is extraordinarily talented. Like, really, really good. But then, something else: People allowed all of the former because of the latter. In fact, many people assumed that part of the reason for the latter was the former: that Kobe Bryant is so good BECAUSE he's selfish, arrogant, and completely insufferable. For a while, even though I couldn't stand him as a human being, I bought their reasoning. They must be right, I thought-these people probably know more about basketball than I do.
But then I made a few more stops on the career Tilt-a-Whirl. I spent time with Steve Nash, Shareef Abdur-Rahim, and, most applicable to this discussion, with Kevin Garnett.
Kevin Garnett is also extraordinarily talented. Like, really, really good. And at first, I was afraid that he too suffered from the same syndrome as Bryant. His first words to me weren't even spoken to me-they were spoken around me, as I ventured onto the court for my first pre-preseason pickup game.
"I don't know who that white boy is. He doesn't get to play yet."
It was not love at first sight.
But over the three weeks I spent around the man in training camp, I developed a relatively deep respect for him. I qualify that respect only because I realize that three weeks doesn't seem all that long. An experience like an NBA training camp is something of a pressure cooker, though, and teammates learn about one another's character very quickly.
Kevin Garnett shares some of Bryant's personality traits. He's arrogant…but he realizes it. He can be insufferable…but he laughs about it. He's intense…but he can turn it off.
The contrast between the two was evident even in the first quarter of the first game of this year's Finals. Bryant took bad shot after bad shot, with no one questioning his decisions. For whatever reason, people-including the self-professed guru of coaching team-oriented basketball-assume that closely guarded fadeaways with a 25% likelihood of success are better since they're taken by the team's superstar.
Meanwhile, Garnett was playing fairly well. But that's not the important part. It was evident, just from watching his face that Garnett was, of all things, nervous.
And I guess that's why I liked him so much when I spent three weeks in the Timberwolves' training camp. Kevin Garnett is almost like the rest of us. He's gets nervous like the rest of us…laughs at himself like the rest of us…sees how ridiculous his job is, just like the rest of us. Kobe Bryant thinks that it's perfectly normal that he is widely considered to be the best player in basketball.
Kevin Garnett is like the sane person who thinks he might be going crazy. Kobe Bryant is the crazy person who thinks that everyone else is insane.
Of course, for all my love of Kevin Garnett, and for all the distaste I happen to have for Kobe Bryant and the style of basketball he represents to me, Bryant's Lakers were winning when I gave up on the game.
And so, grudgingly, I have to admit that-just like in 1987-sometimes the bad guys win.
In short games that end because the viewer gets bored and sleepy.