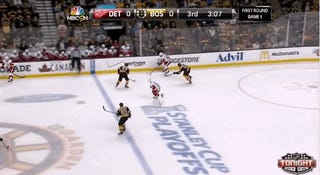 Just 30 seconds before this play, Detroit goaltender Jimmy Howard watched Milan Lucic 's redirection of Jarome Iginla's shot/pass on goal harmlessly trickle through the crease. It was the Bruins best chance of the night and on the pendulum swing back, they were down 1-0. These things always seem to happen that way: a nearly-great play in one end for one team immediately turns into Pavel Datsyuk reaching his entire stick length behind him to feed himself a through-the-legs pass for the eventual game-winning wrister.
After twisting himself into control, Datsyuk entered the Bruins zone and immediately used teammate Justin Abdelkader (and the two Bruins defensemen) as a screen to beat Tuukka Rask. It might have been the only way to do it because Rask was out there doing shit like this all night: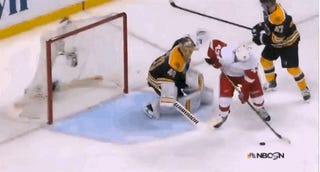 And so, in 30 seconds, the Bruins, owners of the best record in the league, just lost home ice to the eighth-seeded Red Wings. Throw the seedings out, though, because Detroit is playing well and Boston actually had some trouble against them, going 1-3 against the Red Wings this season. (And also because it's hockey.) Even still, this is a pretty rough paragraph, AP.
Friday's loss was their first playoff game since they dropped the deciding Game 6 of last season's Stanley Cup final in Boston. They lost 3-2 to the Chicago Blackhawks after allowing the tying and winning goals in the last 76 seconds.
Damn. I mean, of course they were going to eventually lose another playoff game, did you have to remind them it happened already, like that? After a finish like this? Game 2 is Sunday afternoon in Boston, where the Bruins can try to win their first playoff game since Game 3 of the Stanley Cup final.