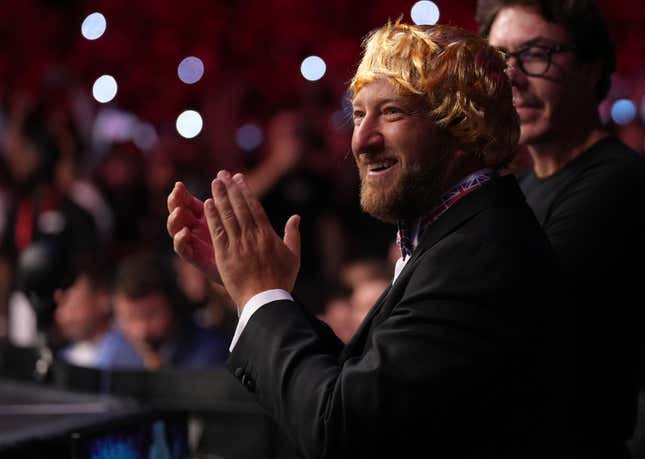 There is a part of me that feels sorry for Dave Portnoy. He left a good job with a sports outlet to establish — with some help from his parents — Barstool Sports, to a point that it was bought out by a major company. PENN Entertainment purchased a 36 percent stake in Barstool Sports in 2019, and paid nearly $400 million for the rest in February 2023.

That company established a sportsbook with his outlet and, in the summer of 2023, left him to build a larger one with ESPN. ESPN infamously shut down Barstool Van Talk in 2017, after a backlash from viewers and the world wide leader's female talent, whom Barstool had been harassing online. On Tuesday, PENN sold Barstool back to Portnoy. He framed the separation as a victory, but his explanation of why it happened evidenced the limits to Barstool's reach as well as any other media outlet that prides itself on shunning wokeness.
It's me — hi, I'm the problem it's me
"We underestimated just how tough it is for myself and Barstool to operate in a regulated world," Portnoy said in a video he posted to Xwitter . "Where gambling regulators, the New York Times, Business Insider hit pieces fucking with the stock price, every time we did something it was one step forward, two steps back. We got denied licenses because of me, you name it."
Give Portnoy credit for being honest. News and accusations about him made Barstool a less profitable venture for PENN than the company would have hoped. However, to call lawyer-vetted journalistic work about him "hit pieces" and admit that mainstream business is not the place for Barstool, is proof out of his own mouth that his brand is problematic.

There is plenty of room in media for irreverence. Many people in this world take themselves too seriously and need to be taken down a peg or three. The most important aspect of the majority of jobs is the money generated for workers. For the people out there who aren't trust fund babies, work's main purpose is to provide a safe and healthy life. Most of the professions that we spend our lives tolling away at, our decisions on the clock don't have an effect on the well-being of the planet.
The problem with irreverence comes when the content has no empathy. In late May 2023, Portnoy announced that he would be hiring back Ben Mintz to his company that sells watches. PENN fired Mintz for saying the N-Word while reciting Bone Thugs-N-Harmony lyrics on a livestream. He dismissed the idea of an upset partner by tweeting out that he had no "corporate woke overlord" while still very much being in business with PENN.
Not using the N-World in public spaces is a simple rule for non-Black people to follow. There are several words that forget in my content, I don't even use them in private. In an ideal society there would be place for offensive words in honest discussions, but humans have proven to not be mature enough to have those unfiltered talks.

Despite him having publicly used a racial slur on his company's platform, Portnoy was publicly giddy to bring back Mintz. As the news was breaking of the end of Barstool's partnership with PENN, Portnoy posted a public phone call with Mintz about how excited he is to bring his racial slur-reading colleague back to Barstool.
The order of Portnoy's Xwitter timeline went like this: Him announcing that he owns 100 percent of Barstool for the first time in a long time, while complaining that he is viewed as too offensive for the mainstream, another video of a pirate ship with the tune Hans Zimmer's "Hoist the Colours" playing, and a third video of him enthusiastically bringing back a white man who said the N-word on a livestream.
Guess it's back to Barstool as usual
Less than two hours into his relaunch and Portnoy showed the problem with the entire anti-woke mindset. The New York Times and Business Insider did not write hit pieces about him. Those stories brought up legitimate concerns about at best his character, and at worst several accusations of him abusing women. He has vehemently denied that he ever committed any type of violent and/or sexual assault and sued Business Insider — a suit that was dismissed in November 2022 and he dropped his appeal of that decision in February 2023.
Real Sports' Soledad O'Brien did an entire piece on Barstool, and here was Portnoy's trembling response when asked about Barstool's history of misogyny and harassing women online:
Companies do not seek to spend advertising dollars on controversial brands, but most steer clear of the offensive. Nike and Netflix still work with Colin Kaepernick, two companies that no one should consider "woke." Yet Portnoy admitted that there are organizations hesitant to do business with him because of how he operates. His shtick hurts the bottom line.
It's similar to how even though Tucker Carlson (whose show Portnoy appeared on often) had a highly-rated program when he was employed by Fox News, many advertisers did not want to be associated with his brand. Being a loud and strident jerk is not the best way to ingratiate yourself in corporate America full of similar people who don't want that same label.
A company that less than 10 years ago specialized in slot machines used Portnoy and his company to boost its profile, then left him to partner with the largest sports media outlet in the world. Capitalism kicked Barstool in the gut, and yes that sucks for the website grown from free handouts of physical newspapers.
In an established market the big companies always win. That and Portnoy's actions are why that partnership with PENN did not work. He literally said "We got denied licenses because of me."
That has nothing to do with the "regulated world" or wokeness. Irreverence can be protest — racism, sexism, and crudeness are just foul.