Soon after Jerry Sandusky's arrest last November, the focus turned toward the insular overlap of several powerful Pennsylvania institutions: Penn State, The Second Mile (Sandusky's charity), and governor Tom Corbett, who had launched the Sandusky investigation during his previous tenure as state attorney general.
Corbett had come under fire because the Sandusky inquiry proceeded at a slow pace during his time as AG, all while he was taking in a shitload of campaign cash from individuals and businesses affiliated with The Second Mile, whose board members, in turn, were taking in plenty of money from Penn State. And since taking office in January 2011—10 months before Sandusky's eventual arrest—Corbett has served as a member of Penn State's board of trustees.
Corbett's not up for re-election for another two years, but his poll numbers are in the toilet, with nearly 40 percent of state residents saying he handled the Sandusky inquiry poorly. And now both candidates vying to become Pennsylvania's next attorney general want answers.
Last month, both Republican David Freed and Democrat Kathleen Kane told the Patriot-News of Harrisburg (Pa.) that, if elected, they would look into Corbett's role in the investigation. And yesterday, Kane upped the ante during an interview with the editorial board of the Scranton Times Tribune:
At first, Mrs. Kane suggested the delay in charging Mr. Sandusky was due to either "politics" or "inexperience," but then said it was "probably" politics after an editorial board member pointed out Mr. Corbett was not an inexperienced prosecutor.
"The reason it was probably politics is you look at all the other factors surrounding it," Mrs. Kane said. "You look at the amount of money that came into his campaign while this was going on from the Second Mile, from the Penn State board of trustees."
G/O Media may get a commission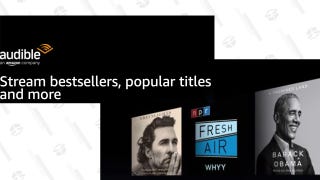 FREE
Audible Premium Plus 3-Month Free Trial
Corbett got the Sandusky case in March 2009, when the Centre County (Pa.) district attorney handed it over to the state attorney general, citing a conflict of interest. At the time, investigators were aware of just one potential victim—the 15-year-old boy from a neighboring county who had gone to authorities several months before. Sometime after that, rather than making an arrest, Corbett chose to impanel a grand jury—even as he had just one state trooper (though he would later say it was two) assigned to investigate.
As Sara Ganim wrote last November:
It wasn't until the fall of 2010 that agents from the state Attorney General's office got involved, and then when then-Attorney General Tom Corbett was elected Governor and took office in January 2011, he appointed state police commissioner Frank Noonan, who increased the number of investigators to eight.

That was when things really started to take off. It wasn't until January 2011 that Joe Paterno, fomer athletic director Tim Curley and vice president Gary Schultz testified. It wasn't until April that officials from The Second Mile testified.

None of the other seven cases of alleged abuse, outlined in the grand jury presentment, were known until more investigators joined the team.
Corbett has said he didn't initially make an arrest while continuing to investigate because bringing additional charges would have been harder if that initial claim didn't result in a conviction. He has also said that he never shared details of the grand jury investigation with Penn State's board of trustees because of grand jury secrecy rules. And his spokesman told the Times Tribune in response to Kane's comments that The Second Mile was never under investigation.
But in the run-up to his gubernatorial election in November 2010, Corbett raked in more than $200,000 from past and present board members of The Second Mile. And family members and businesses connected to those board members kicked in another $640,000. In 2009 and 2010, Penn State pumped $25 million in business toward the company run by The Second Mile's board chairman, and in 2008 and '09, another local business with ties to a Second Mile board member took in another $28 million from the university. (Yes, this was before Corbett joined the Penn State board by becoming governor, but it's indicative of how connected the school and the charity already were.)
Corbett even approved a $3 million grant for The Second Mile several months after becoming governor, and in defending himself against allegations that he spearheaded the Penn State board's decision to fire Joe Paterno and university president Graham Spanier, he's given conflicting public statements about what exactly he told the board on that fateful night.
Perhaps, after November, we'll begin to know more.
Kane says Corbett 'probably' played politics with Sandusky case [Times Tribune]
Surprise! Pennsylvanians Unhappy With How Governor Corbett Handled Sandusky Scandal [Onward State]