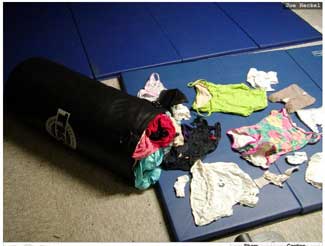 So, in Cincinnati, this dad and his son decided to move their punching bag, and, on a whim, figured they'd find out, you know, what's actually in a punching bag.
Turns out ... it was actual dirty laundry.
(There were) bras, thongs and bathing suits. We could not believe there were clothes inside instead of sand," he said. Heckel said the smell was "bad, real bad."
As the aptly named blog puts it, we're glad Najeh Davenport had nothing to do with this story.
Opened Punching Bag Reveals Dirty Laundry [Deuce Of Davenport]