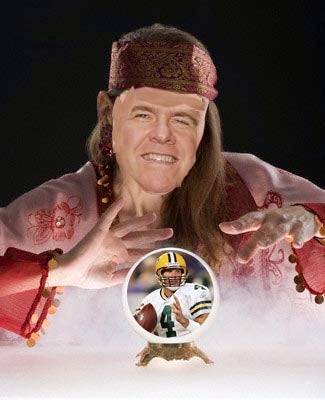 Favraro's Log. Gunsling Date: Sometime in the middle of the ponderous NFL off-season where shit like this can dominate the headlines for weeks on end. Somewhere, off the distance, did hove into view a great assemblage of bullshit about Brett Favre. FUCK! It's coming right for us! Take evasive action!
As we're all too painfully aware, Brett Favre asked for his release from the Pack yesterday and, as happens anytime Favre so much as flosses his butthole, PK has an update on the situation up within minutes, even though it's basically recapitulating al that he assumed would happen before.
Favre's first choice is the Vikes, because his former quarterback coach and current pally Darren Bevell has the unenviable task of being the offensive coordinator under Brad Childress in Minny. But we know the real reason is that he wants to haunt Big Fatty Drew.
Update: The Pack have told Favre he's welcome to come back as a backup, but they're not releasing him. Peter King immediately starts bounty on Aaron Rodgers.