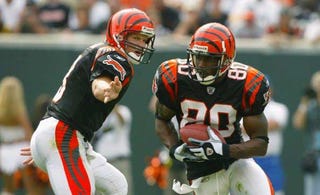 So, what has Peter Warrick been up to? Well, as you might suspect, he's floating around the Canadian Football League, training with the Montreal Alouettes. And he's still grouchy about how his American football career went down.
Seriously, he really wanted that Heisman.
Warrick has a tattoo on his left arm of the Heisman with the words 'Can't Take This' inscribed. "It had nothing to do with the way I played. Every Saturday, I gave my all," he said. "The Heisman is supposed to be for the best athlete. And they robbed me of the Biletnikoff. That hurt the most. It was wrong," Warrick charged. "I felt I was the best (player and receiver) that year. I haven't said anything until today, but I want it to be known."
Way to take a stand, Peter! And timely too! Of course, the real reason Warrick lost the Heisman because of an arrest that got him suspended from the team. Another player arrested with him was actually kicked off the Seminoles roster. Name was Laveranues Coles. Wonder whatever happened to that guy.
Warrick Brings Right Attitude To Alouettes [The National Post]