Peyton Manning was his usual brilliant self last night's win, tossing for 286 yards and three TDs in what eventually turned into a rout of San Diego. But, ever the perfectionist, he showed his anger both during and after the game with the guy controlling the scoreboard at Mile High.
Late in the fourth, the video boards showed Aqib Talib dancing on the sidelines, and the crowd erupted in cheers. Only problem was, the Broncos were on offense at the time. The noise led to a false start penalty and Manning showing his frustration:
(At the 21-second mark of the video, the referee's microphone picks up a quality Manning f-bomb.)
Afterward, Manning wanted to make clear that he didn't blame the fans for cheering.
"I have no problem with our fans. Our fans are great. I've got a problem with our scoreboard operator," the Broncos' quarterback said. "I'm gonna have a little talk with him. I'm not sure what he's doing.
"He's playing music, showing players dancing and getting the crowd fired up when we had the ball. I don't think he should be doing that."
G/O Media may get a commission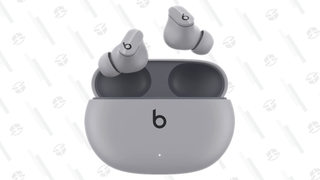 It wasn't an isolated incident. Earlier in the fourth, the scoreboard had done a schtick where it would show Manning (cheers!), then abruptly cut to a shot of Philip Rivers (boos!), and went back and forth between the two for a while. Manning said that wasn't cool.
"I don't think he should be showing their quarterback on the sideline. I thought that was kind of disrespectful. Our fans are great, our fans are loud, but our scoreboard operator, it wasn't his best night."
(For his part, Rivers was pretty chill. "If you had told me when I was 10 years old," he said, "they would show me in front of 75,000 and get booed, and Peyton Manning in the same clip and get cheered, I'd say that's pretty awesome.")
If this is what Manning's most upset about, that's a sign things are going pretty well for the Broncos. They're 6-1, just laid a sockdolager on their only realistic divisional challengers, and after the Patriots next week, have a stretch of four games against teams currently at or below .500. Scoreboard guy might wanna run some two-a-days this week, though.