MANNING-ESPN_2015-12-27_10-46-42
Despite the Al Jazeera documentary alleging his ties to a doping ring having not yet aired, Peyton Manning spoke to ESPN's Lisa Salters this morning to deny whatever the investigative report might claim—and later appeared on the network in person, stating that his wife's medical treatments are "her business." ESPN's Chris Mortensen initially provided this quotation from the Broncos quarterback:
It absolutely never happened. The whole thing is totally wrong. It's such a fabrication, I'm not losing any sleep over it, that's for sure.
Jokic? Embiid? The NBA MVP is obvious... right? | Keep it a Buck(et)
Later, to Salters (transcript via closed captioning):
>> whats with your reaction to The al jazeera report that you had human growth hormones mailed To your home?

>> I wrote being angry, Disgusted is how I feel. Sickened by it. I'm not sure I understand how Someone can make something up About somebody, admit he's made It up and yet somehow it gets Published in a story. I don't understand that. Maybe you can explain it to me, Somebody else can.It's completely fabricated. Complete trash, garbage. It makes me sick it brings Ashley into it. Her medical history, her medical Privacy being violated. That makes me sick. I don't understand that. It's not right. I don't understand it.

>> have you ever used hgh or any Performance-enhancing drug?

>> absolutely not. What hurts me the most, whoever This guy is this slapstick Trying to insinuate when I was a Broken neck, I had a bad neck And I busted my butt to get Healthy. Put in a lot of hard work. I saw a lot of doctors. I went to the guyer clinic. He had a hyperbaric chamber the Colts' doctor thought might Help. Don't know if it helped. Disintegrate hurt. Time ended up being probably my Best medicine a long with a lot Of hard work. It stings me I broke rules are. It's sick.

>> the guy who worked at the Guyer institute said they mailed Medications to you at your Wife's name.

>> I don't know this guy. I never heard of this guy up Until this report. Never met this guy. Any medical treatments my wife Received, that's her business. Had nothing to do with me. Nothing has been sent to her or My wife used that I have taken. Absolutely not. My treatments I do, she may have Hers and that is her business. There is no connection between The two. Whoever this — I'd love to Understand why this guy is Saying this. Why he's making it up. He admits he's making it up, yet It still becomes a story.

>> you went to the guyer Institute.

>> yes.

>> you had treatment and you had Medications from there before.

>> yes.

>> what stuff did they do for You?

>> hyperbaric trainer. Went with the colts' trainers And doctors. Something called eecp which miss Supposed to create blood flow in Your muscles. You've got to do 35 consecutive Days of treatment. I watched hoda and kathie lee During my treatment it. Was there during normal business Hours at 9:00 a.M. Eastern time. I was a good patient. Had nutrient iv therapies that I Did. That I thought may have helped Me. Everything was under colts' Authorization. They knew about it. They went with me. Anything else this guy is Insinuating, complete garbage.

>> we've seen all the athletes Accused. We've seen many athletes deny. We see many of them eventually Admit. Right or wrong, the cynicism is There.

>> sure.

>> what do you want to say to a Little kid?

>>I know how hard I worked for my 18 years playing in the nfl. There are no short cuts in the Nfl. I've done it the long way, done It the hard way. This is a complete and total Joke, it's defamation and ticks Me off.

>> your initial reaction when You heard about this?

>> sick. Disgusted. Makes me want to just can't say It on tv. Makes me sick.

>> how do you plan to fight it?

>> I plan to throw today, a Little bit harder. My ball's got extra heat today With built-up anger. I'm moving on. I'm not going to lose sleep over This report. Nese lies. I'll keep my head above it. Get out on the field next week. Go from there.
The documentary, titled The Dark Side: Secrets of the Sports Dopers, also names Ryan Howard, James Harrison, Julius Peppers, Ryan Zimmerman, and Mike Tyson as those who received drugs from an Indianapolis-based pharmacist who claims the Guyer Clinic, where Manning sought therapy after his neck surgery, sent HGH to Manning's home—something Manning's lawyer did not specifically deny last night, instead saying that Manning's wife (to whom the drugs were addressed, according to The Huffington Post) has the right to keep her medical history private.
Conveniently, ESPN provided Manning the access to refute the claims that have not even been made yet in detail; Manning has hired former George W. Bush press secretary Ari Fleischer to manage his crisis. Meanwhile, the former Guyer Clinic employee who makes the allegations in the documentary is trying to completely recant them:
G/O Media may get a commission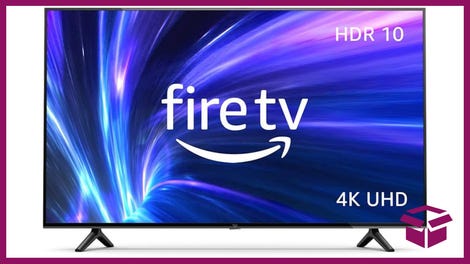 42% Off
Amazon Fire TV 50" 4K Smart TV
Update (12:10 p.m.): Updated with video of Manning's appearance on ESPN.
[ESPN]