The most impressive touchdown of a game filled with them came at the end of the first half, as Peyton Manning bluffed a handoff to Knowshon Moreno, rolled to his left, and shuffled untouched into the end zone. It was a rare sighting of the Peyton Manning naked bootleg, the secret weapon of our generation's greatest quarterback.
It wasn't a very convincing fake handoff, but everyone was fooled, including Fox's CBS's cameras, all of the Cowboys, and even the rest of the Broncos, who didn't know it was coming because Manning didn't warn them. Who could foresee Manning, about as mobile as a tree stump, scrambling on purpose? Its very unbelievability is what makes it so effective. It's something Manning trots out every few years, and it's almost unvaryingly successful.
The first one we could find was in 1995, from Tennessee's 41-14 win at Alabama.
Beyond Manning's better selling of the handoff to Jay Graham—defenses weren't yet accustomed to his immobility—it's absolutely identical to the bootleg against Dallas last night. All 11 defenders bit, leaving Manning a leisurely jog to paydirt. Again, Manning hadn't told any his teammates.
The bootleg is purely Peyton's initiative, but a 1995 Sporting News profile of the Manning family makes clear where he got it from.
Peyton, at an early age, began quizzing his dad about football and the art of quarterbacking; they would talk for hours. Archie once discussed running a naked bootleg from the 1. Years later, Peyton did it in a high school game, scoring a touchdown. ''I wonder what else he has stored, waiting to pull off,'' his dad says.
G/O Media may get a commission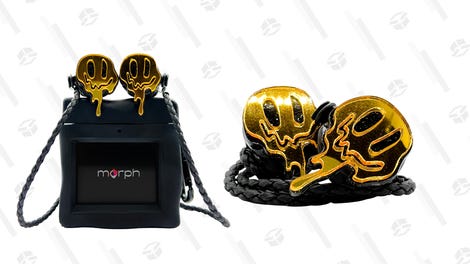 morph audio
Morph Earphones
Manning went pro in 1998, but waited until 2001 to unveil the bootleg on an unsuspecting public and an embarrassed Bills defense. In a November game where RB Edgerrin James was out with injury, Manning, who had never run for more than 26 yards in a game, again decided at the line of scrimmage to fake the handoff. He didn't tell his O-line, not even running back Dominic Rhodes, and hustled 33 yards for a touchdown. "That's an old Archie Manning special right there," he told the Indianapolis Star.
"Quarterback bootlegs are the best when nobody else knows," he said after the game. "It was a run play all the way. At the last minute, I saw their safety cheating to the side. They bit."
Manning got greedy. The very next year he attempted another bootleg against Houston, and was stopped for just a 1-yard gain. It was about then he realized that this play was only useful for its rarity, like a David Ortiz stolen base, and was to be kept in his back pocket for years at a time.
In 2006, it reappeared against the Jaguars.
This time Manning rolled to his right instead of his left. The distinction? It was a designed play instead of a unilateral audible. "That call came from the head coach," Manning admitted.
Manning waited until December of 2010 for his next attempt. With a five-point lead on Oakland and 1:39 left, the Colts merely needed a first down. He found himself wide open, and lugged the ball down to the 4-yard-line before sliding to run out the clock. In response to ribbing from his teammates, Manning wanted to make one thing clear: "If I wanted to score. I would have scored. I chose not to."
Once again, Manning admitted he changed the call himself because he didn't want his lineman tipping a fake, and once again he credited his inspiration.
"My dad always told me that's the best way to do it," Manning said. "I didn't decide until the last minute."
Manning was smiling last night when he described the key to a successful naked bootleg: "you want to do it about every five years or so." But it's no joke. Manning has figured out that the element of surprise takes a few seasons to recapture. We hope he sticks around the NFL long enough to lull us into complacency again. It's why Manning is one of our favorite QBs: he's been a crafty veteran since he was 19 years old.