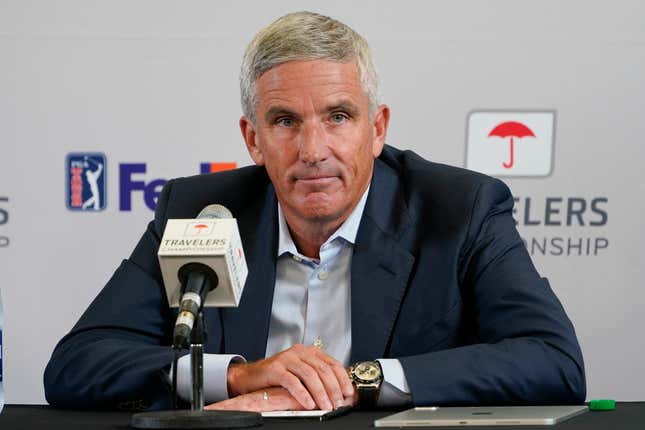 If you were looking for evidence of the PGA Tour's reluctance to partner with the Saudi Arabia Public Investment Fund, just take a gander at the new name of the proposed new company. May I present to you: NewCo. It's as if one, if not all sides, said "Let's get this over" before hashing out the details in all of five minutes.
Is Tiger Woods the biggest loser in the PGA-LIV Golf merger? | Agree to Disagree
I mean, NewCo? Come on, put a little more effort into this than a couple of drunk guys during happy hour. I'm actually starting a new business venture myself. It's called FreshBiz. Me and two friends came up with it over text, and 15 minutes later had an LLC filed on LegalZoom.
You know in buddy cop movies when the officer gets handcuffed to the perp, and then they bond, albeit begrudgingly? This is that, only the PGA has no interest in ever being photographed with its new business partners.
The looming deal — currently being looked into by the U.S. Senate Permanent Subcommittee on Investigations — was slapped together with a couple glue sticks and a blood oath because PGA Tour commissioner Jay Monahan can't wait to get enough board votes to cut off LIV Golf at the knees and bury its members/traitors under a heap of fines and suspensions.
The art of the surrender
Terms of the merger(?) or partnership(?) were released Monday, and there were a variety of interesting wrinkles in the six-page paperwork (via The Athletic).
LIV will fall under the control of the PGA, and an "empirical data-driven evaluation" of the Saudi tour's yearlong history will be conducted before Monahan assuredly dismantles it while manically cackling.
The PIF will be a "premier corporate sponsor" of the PGA Tour and the DP World Tour, and the groups will identify a high-profile event that the Saudis will pay to sponsor.
Speaking of fees, it was rumored that PIF was making a contribution of $2 billion to $3 billion as part of the deal, but that wasn't mentioned anywhere in the framework.
The PGA and DP tours will work in good faith to help defectors re-apply for membership, but not before "determining fair criteria and terms of re-admission consistent with each Tour's disciplinary policies."
There will be a "Communications Committee" to make sure the transition is "smooth," and essentially act as a moderator/middle man for the three tours.
The PGA Tour's controlling stake of the board is key, but the PIF ultimately got what it wanted, which was a piece of golf. They're a "premier" sponsor, and that visibility is what they spent billions to acquire. So despite Monahan's worst intentions for LIV Golf and its members, he'll never be able to cover up that Saudi sponsorship.
Perhaps the funniest aspect to all of this — other than Monahan handling the negotiations with the deft and skill of a business school student — is the LIV players getting left out in the cold by their bosses. Nothing was outlined for reinstatement in the fine print, yet there's been word of fines, and possibly a yearlong suspension dating to the last LIV stop played.
Not only is the PGA about to rip the rug from underneath Dustin Johnson, Brooks Koepka, and Co., but all of that bravado and talk about what real golf is will be put to rest, as well. The deal states the NewCo board "will make a good faith assessment of the benefits of team golf."
Ahh, team golf. The proverbial three-point line of the LIV Tour. Yes, I'm sure they can't wait for Greg Norman's PowerPoint detailing a system that has shifted 17 times in its 14 months of existence.
The caveat to this proposed golf nirvana is that while pending litigation will be dropped by all sides should this go through, one of the biggest legal gripes was that the PGA Tour had a monopoly over the sport. So, what, pray tell, is NewCo if not exactly that? Sounds like a perfect grandstanding point for one of these self-righteous senators to seize upon.
Anyway, here's hoping the deal goes through strictly for the unintentional comedy.