Do you wish you were a fly on the wall of the New York Knicks' basura 2014-15 season? Of course not, but Charley Rosen was, and he's filing dispatches to ESPN from the one day each month he spent with Phil Jackson during the course of it. He's now up to January 10, four days after the Knicks traded J.R. Smith and Iman Shumpert to the Cleveland Cavaliers, and waived Samuel Dalembert. In explaining why he rid the Knicks of these players, Jackson doesn't hold anything back.
On J.R. Smith:
"J.R. had been exhibiting some delinquent behavior and had gotten into the habit of coming late to team meetings, or missing them altogether ..."
" ... I also said that because of his unacceptable behavior, he had two strikes against him with this team. He didn't really respond. He's a very sensitive guy, with his big doe eyes. He looked like he was going to tear up. But he finally responded that he was going through some issues with his gal."
On Iman Shumpert:
"I like Shump," says Jackson, "but he has a very loud, big personality. It was difficult for most of the other guys to deal with, especially if things don't go well for him or the team."
G/O Media may get a commission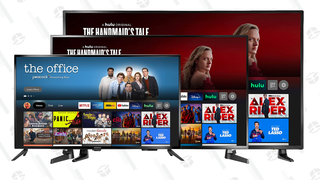 Up to 44% off
Prime Early Access - Insignia Fire TVs
On Samuel Dalembert:
The other nuisance, according to Jackson, was Sam Dalembert, who had fallen asleep in the pregame locker room sessions.
And just for good measure, how untradeable was Andrea Bargnani?
" ... Would anybody take a chance on [Andrea] Bargnani? I did and got no return whatsoever. Maybe he'd be another candidate for a salary dump. Maybe we'll just bite the bullet and waive him. Anyway, we're now in the hunt."
These complaints aren't exactly shocking for those who pay attention to the Knicks. J.R. Smith having strikes against him and showing up late? Iman Shumpert's loud personality seeming abrasive in a losing locker room? Samuel Dalembert sleeping when he shouldn't? Andrea Bargnani and his creaky game being untradeable? Par for the course.
More interesting is that Jackson is saying these things out loud at all. In the NBA, shitting on a player is as easy as texting a reporter and telling them to attribute the following quote to "sources within the Knicks" or just "sources," most people get the media to do their dirty work for them. It's to Jackson's credit that at least he is willing to put his name on this information (though of course we don't know what previously leaked anonymously to the press).
There has already been a bit of grumbling about Jackson saying these things, and it is easy to see why an NBA agent would object. A big part of their job is keeping as many bad details about their players out of the press as possible, and usually they have allies in team management. But Phil, for better or for worse, says what he thinks, and rarely wavers. Knicks fans better hope it is for better.
[ESPN]
---
E-mail or gchat the author: kevin.draper@deadspin.com | PGP key + fingerprint | Photo via AP