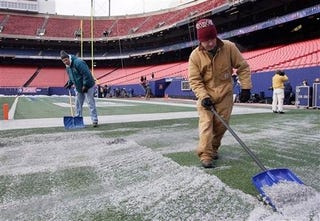 This is your open thread for the 1:00 NFC Divisional Playoff Grudge Match between the Eagles and Giants. I wonder what the other Deadspin editors are doing right now...
Just imagine what's going through the minds of these teams, knowing that a win today gets them a playoff game against the Arizona Cardinals for the right to play in the Super Bowl. How do you concentrate with that knowledge in the back of your head? No wonder these athletes get paid so much.
Anyway, enjoy the kickoff and stay tuned for more bloggy goodness as the fates and wireless signals allow.