The NHL Closer is written by five hockeyfarians from Melt Your Face Off. When not crafting paraphernalia out of a hockey stick, athletic tape and a puck (yeah, man, a puck!), they can be found hanging out, keeping it mellow and doing their thing. So kick back and relax, because Weed Against Speed has lit the incense, turned on the black light and put some Floyd on. Far out.
It's nearly impossible not to sound like a broken record here, but the Eastern Conference Finals seem to be going the way of Western Conference, with a convincing 4-1 victory by the smoking hot Pittsburgh Penguins over the dazed and confused Philadelphia Flyers. Both series are now one game away from sweeps. I reckon that could cost the NHL hundreds of dollars in lost ad revenue from all of those missing Versus broadcasts.
Goals by Ryan Whitney and Marian Hossa opened up a quick 2-0 lead for the Pens, quieting the enthusiastic crowd in the Wachovia Center. Both goals were assisted on by Sidney Crosby, giving him 19 points in 12 playoff games thus far in the playoffs. Nevertheless, the real story should be Sidney Christ's facial hair — easily the most impressive playoff beard of this postseason other than whoever Sean Avery was dating.
G/O Media may get a commission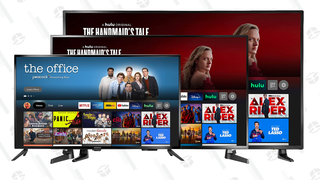 Up to 44% off
Prime Early Access - Insignia Fire TVs
R.J. Umberger attempted to keep the Flyers in the game, but his goal was all Philadelphia could muster; the Penguins packed it in defensively, utilizing a hybrid of the neutral zone trap (Jacques Lemaire, watching the game from his home in Florida, clasped his hands in a sinister manner and kept repeating the phrase "good...good"). Marc-Andre Fleury was never really tested, turning away a yawn-inducing 17 shots, although Scott Hartnell did clank one off the post when the game was still in reach with the score at 2-1.
Marian Hossa put the game away when he notched his second goal of the game on an empty netter as the seconds ticked off the clock. 4-1 Penguins — game over. The fans then filed out of the arena, got in their cars, drove home and threw on some classic Philadelphia Soul to unwind. Given the opportunity, I would have recommended Rock 'n Soul, Part I by Hall & Oates. The live version of Wait for Me on that album will always soothe the troubled heart.
The Penguins are now one game away from reaching the Stanley Cup Finals for the first time since 1992. They are 11-1 in the postseason, and much like Detroit, are not giving an inch to their overmatched opponents. Philadelphia is obviously undermanned, missing their best two offensive-minded defensemen (according to the Versus studio talent), and there doesn't appear to be much hope left for them in this series.
Puckdumps
* Brilliant hockey mind James Mirtle breaks down the NHL's current coaching carousel conundrum. [James Mirtle]
* Wayne Gretzky will not be heading off to Toronto to become president of the Maple Leafs. I imagine Wayne called Janet about the possibility and it played out just like that Roger and Debbie Clemens cell phone commercial — only without the bacne and roid rage. [Puck Daddy]
* MYFO's dear friend wraparoundcurl shares her love of Kevin Smith via a post on Puck Daddy featuring a photo of Seth Rogen and Jeff Anderson (Randall from Clerks) in hockey gear for the movie Zack and Miri Make A Porno. Cool. [wraparoundcurl]
Finally, if you have seven minutes to spare, check out this compilation of some great NHL-related commercials. There is even an awesome "This Is SportsCenter" commercial from the '90's when tWWL actually acted like they gave a rip about hockey.
/wipes tear from eye.