You know that sparkling new arena that Detroit and its citizens paid a hefty chunk of $863 million for? Yeah, nobody is going to games there.

The team announced a near-sellout crowd of 20,491 for their home opener against the Hornets, a figure which is hard to take seriously and was reached only after the Pistons reportedly tried to give away 20,000 tickets. And that's the home opener! The test of a fanbase's willingness to see their team and an arena's worthiness in serving them doesn't come in a marquee game, it takes place on a Monday against the Sixers. Even though the Sixers can be really fun, they're perhaps not the biggest ticket draw for casual fans, and if you consider last night a more valid litmus test of how the arena, named after shitty pizza, can perform over the course of a season, you wouldn't be encouraged at all.
The Pistons said that 13,709 fans came last night. I can't count to 13,709, but there did not appear to be anywhere near that number in the seats. Thanks to the bright red seats of the bowl, you can see exactly where the empty seats are.
Here's tip off:
G/O Media may get a commission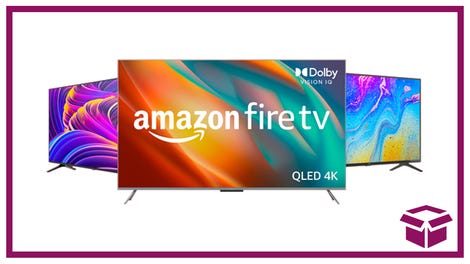 Ooh. stunning.
New Amazon Fire TVs
Here's a picture of the arena one minute after tip-off, sent to us by a reader:
Check out that sea of red:
You can see more in the crowd shots here:
If this wasn't enough, the Red Wings are already complaining about the ice conditions at the arena. This attendance boondoggle might slowly improve over the course of the season if the Pistons are in serious contention for a playoff spot, but the gap between 13,000 and 21,000 is more of a gulf. Maybe this was a serious misread of the degree to which the Pistons relied on their suburban fanbase out in Auburn Hills, though nobody went to games there either and that'd be giving the owners too much credit. The point of the arena deal and that wad of taxpayer cash was to "revitalize" a moribund downtown. That it's taken a single home game (and that might even be generous) for the new car smell to wear off should encapsulate pretty neatly the scam of publicly financed stadiums.