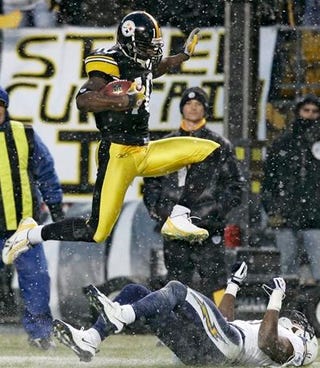 There may have been a time when a bye week and home field advantage mattered in the NFL playoffs. That time no longer exists.
Home teams are now 3-5 in the NFL playoffs, both No. 1 seeds have been eliminated and a 6 and a 5 will play in conference title games. Oh, and I say this one more time because it bears repeating—the Arizona Cardinals will host the NFC Championship Game. Yes, the world has gone topsy-turvy.
The Pittsburgh Steelers were the only high seed to escape their destiny and move on. Two Pennsylvania teams survive. Ben Roethlisberger and Santonio Homes are upright and alert. Donovan McNabb and Andy Reid are playing for the Super Bowl ... again. And LaDainian Tomlinson will continue to ride his stationary bike into infinity. Such is the fickle and wicked mistress that is the NFL Playoffs.
I don't know about you, but I'm spent. Enjoy the afterglow, Eagles and Steelers fans. Drink the pain away, Chargers and Giants fans. Bury your anger deep down inside, Bissinger fans, and never speak of it again.
What a weekend.